"Share, beloved sons, in my sorrow. I am your sorrowful Mother. My Immaculate Heart is being pierced with numerous and painful thorns.
The dominion of my Adversary is becoming daily greater and greater, and his power is expanding in hearts and in souls.
A dense darkness has now descended upon the world.
It is the darkness of the obstinate rejection of God.
It is the darkness of sin, committed, justified and no longer confessed.
It is the darkness of lust and of impurity.
It is the darkness of unbridled egoism and of hatred, of division and of war.
It is the darkness of the loss of faith and of apostasy.
In the chalice of my Immaculate Heart, I am gathering, again today, all the pain of my Son Jesus, who is mystically again living through the bloody hours of his agony. A new Gethsemani for Jesus is to see today his Church so violated and deserted, where the greater part of its pastors are sleeping in indifference and in tepidity, while others repeat the act of Judas and betray it out of thirst for power and for money.
The Dragon is exulting at the vastness of his conquest, with the help of the Black Beast and the beast like a lamb, in these days of yours, when the devil has unleashed himself upon you, knowing that there is little time left him. For this reason, the days of my greatest sorrow have also arrived.
Great is my sorrow in seeing my Son Jesus again despised and scourged in his word, rejected because of pride and lacerated through human and rationalistic interpretations.
Great is my sorrow in contemplating Jesus, really present in the Eucharist, more and more forgotten, abandoned, offended and trampled upon.
Great is my sorrow in seeing my Church divided, betrayed, stripped and crucified.
Great is my sorrow in seeing my Pope who is succumbing under the weight of a most heavy cross, as he is being surrounded with complete indifference on the part of bishops, priests and faithful.
Great is my sorrow for an ever vaster number of my poor children, who are running along the road of evil and of sin, of vice and of impurity, of egoism and of hatred, with the great danger of being eternally lost in hell.
And so I am asking you today, children consecrated to my Immaculate Heart, that which, in this very place in May 1917, I asked of my three little children, Lucia, Jacinta and Francisco, to whom I appeared.
Do you also want to offer yourselves as victims to the Lord, on the altar of my Immaculate Heart, for the salvation of all my poor sinful children? If you accept this request of mine, you must do what I now ask of you:
– Pray ever more and more, especially with the holy rosary.
– Make frequent hours of adoration and of Eucharistic reparation.
– Accept with love all the sufferings which the Lord sends you.
– Spread without fear the message which I am giving you, as heavenly Prophetess of these last times of yours.
If you only knew the chastisement which awaits you if you again close the door of your hearts to the anguished voice of your heavenly Mother! Because the divine Heart of my Son Jesus has entrusted to my Immaculate Heart the last and extreme attempt to lead you all to salvation."
Act of Consecration to the Immaculate Heart of Mary
(For Religious & Laity)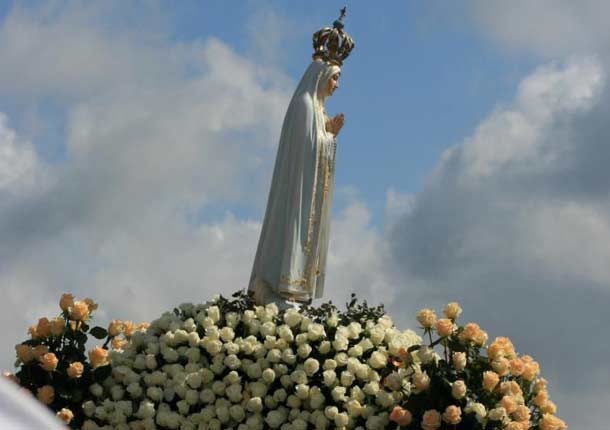 "To everyone who consecrates himself to me I again promise salvation: safety from error in this world and eternal salvation"
Virgin of Fatima, Mother of Mercy, Queen of Heaven and Earth, Refuge of Sinners, we who belong to the Marian Movement of Priests consecrate ourselves in a very special way to your Immaculate Heart.
By this act of consecration we intend to live, with you and through you, all the obligations assumed by our baptismal consecration. We further pledge to bring about in ourselves that interior conversion so urgently demanded by the Gospel, a conversion that will free us of every attachment to ourselves and to easy compromises with the world so that, like you, we may be available only to do always the Will of the Father.
And as we resolve to entrust to you, O Mother most sweet and merciful, our life and vocation as Christians, that you may dispose of it according to your designs of salvation in this hour of decision that weighs upon the world, we pledge to live it according to your desires, especially as it pertains to a renewed spirit of prayer and penance, the fervent participation in the celebration of the Eucharist and in the works of the apostolate, the daily recitation of the holy rosary, and an austere manner of life in keeping with the Gospel, that shall be to all a good example of the observance of the Law of God and the practice of the Christian virtues, especially that of purity.
We further promise you to be united with the Holy Father, with the hierarchy and with our priests, in order thus to set up a barrier to the growing confrontation directed against the Magisterium, that threatens the very foundation of the Church.
Under your protection, we want moreover to be apostles of this sorely needed unity of prayer and love for the Pope, on whom we invoke your special protection. And lastly, insofar as is possible, we promise to lead those souls with whom we come in contact to a renewed devotion to you.
Mindful that atheism has caused shipwreck in the faith to a great number of the faithful, that desecration has entered into the holy temple of God, and that evil and sin are spreading more and more throughout the world, we make so bold as to lift our eyes trustingly to you, O Mother of Jesus and our merciful and powerful Mother, and we invoke again today and await from you the salvation of all your children, O clement, O loving, O sweet Virgin Mary.
(with ecclesiastical approval)
History of the Marian Movement of Priests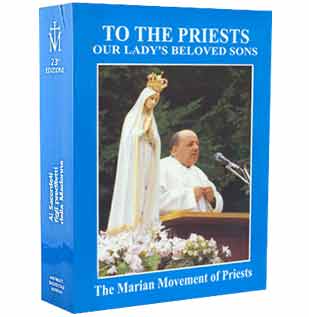 On the 8th of May, 1972, Father Stefano Gobbi, a priest from Milan, Italy, was taking part in a pilgrimage to Fatima. While praying in the Chapel of the Apparitions for some priests who, besides having given up their own vocations, were attempting to form an association in rebellion against the authority of the Roman Catholic Church, an interior voice urged Fr. Gobbi to have confidence in the Immaculate Heart of Mary. What Fr. Gobbi had just experienced was an interior locution. It is not an apparition or other communication perceived by the human senses, but a spiritual phenomenon present in the life of the Church and described in manuals of Catholic theology. The messages (interior locutions) are the gift by which God wishes to make something known to humanity, in Fr. Gobbi's particular case by means of the Blessed Virgin Mary. In July 1973, Fr. Gobbi began to write down these interior locutions which he was receiving. The messages, dating from July 1973 to December 1997, are published in the book, "To the Priests, Our Lady's Beloved Sons."
Get a copy of the Book: "To the Priests, Our Lady's Beloved Sons" Book Containing Messages 1973-1997. The Marian Movement of Priests National Headquarters P.O. Box 8 St. Francis, ME 04774 The Marian Movement of Priests, Inc. is a non-profit religious organization
The truth about the Coronavirus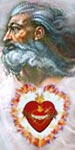 May 1, 2020 - God the Father says: "Today, I invite you to realize that this virus - the coronavirus - is no ordinary disease. It has been created from human ingenuity to specifically target the elderly and physically challenged. This is the plan of future generations to purify the human race around the world. It was released into the general population ahead of schedule - by accident. Those in charge were waiting for less capable government officials in your country (USA) to be in office. Nevertheless, proposed harm is being unleashed on the whole human race."
"I tell you these things to help you to realize the underlying evil at work and hidden in hearts these days. You cannot be confounded by any turn of events. Over all situations, I am in Dominion. No one will be given power over you that is more powerful than your Eternal Father. Therefore, be emboldened with this knowledge. If you persevere in Truth, you have loaded your weapons against what seems to be and discharged them with Truth." (Source: Holy Love)
Help the Lord spread His voice, time is running out
Please help spread these messages of faith, hope, salvation,
defense
against evil (by email, printing, Facebook, Twitter, and other media) to your loved ones, your friends, and all the people you may meet, who seek salvation or who are in danger of being eternally lost. The Lord gives great graces and blessings to those of goodwill who, according to their own possibilities, collaborate with His Plan of Salvation.
Who helps the Lord save a soul predestine his own
, independently from the outcome.