June 8, 2012
URGENT MESSAGE FROM GOD THE FATHER TO ITS LOYAL PEOPLE.
God the Father: Worldwide chain of prayer to knock down the plans of the sons of darkness
"My children, my inheritance, my peace be with you.
The new world order at my adversary's service has everything ready to change the destiny of humanity.
My people will be enslaved and all its assets will be expropriated.
Everything will start with the implantation of the mark of the beast, the microchip. My faithful will walk through the desert of purification; only those who persevere will reach the crown of life.
I tell you that all those who allow themselves to be marked will lose their individuality and will become slaves at the service of one system.
The so-called globalization that the kings of this world are carrying out will surrender under their control the poorest nations.
Everything will be controlled by the new world order; the rich will be richer, and the poor poorer.
My children, the new world order is governed over by the freemasonry, a very dark organization, directed by my adversary.
It is he who directs the governments of the powerful nations, among his objectives is to terminate one third of humanity by war and establish a single worldwide government, where all other nations, which are not part of the selected group, will be subject to a dictatorial regime.
One single government, one single religion, one single currency (Amero), a single army and secret service organizations at the service of the regime, including a religious authority responsible for imprisoning, torturing and disappearing all those who were not mark and not abiding to the laws and religion of the new world order.
My people, the so called globalization is the beginning of the new world order, powerful nations will exploit natural resources, seizing crops and hydrological resources of subjected nations and these will die of hunger and thirst.
Globalization with its treaties will give more authority to powerful nations to exert territorial dominion over the poorest nations for them to lose their identity as free nations and would become some more colonies of the regime.
My children, all this was planned long ago by the so-called Illuminati who are the true kings who rule the destinies of humanity.
This ultra-secret organization is responsible for managing the economies and politics of nations; causing wars and disasters by using technologies of the infernal beings, what you call extraterrestrial.
My children, I announce all things that you may know what the future holds for you, so you can prepare and assume with faith and courage the changes this world will suffer.
My children, my inheritance, worldwide chain of prayer is the only witch can knock down the plans and strategies of the sons of darkness.
I repeat, only the prayers, fasting, penance that you do as a worldwide chain, will deliver you from plans of my adversary.
Worldwide chain of prayer, with the prayer of the Rosary (Sorrowful mysteries), chaplet of the Precious Blood of my Son, and the exorcism of my beloved Michael as given to my servant Leo XIII, and you will see all plans of my adversary and his earthly agents roll underfoot.
Forward my people wear your Spiritual Armour to go into battle and fight united to your Mother and together with my Heavenly Hosts against all forces of evil.
Victory is to my loyal people.
Be reassured. Peace to you my inheritance.
Your Father Yahweh, Lord of Hosts.
Make my messages known my people."
Source: mensajesdelbuenpastorenoc.org/english
The truth about the Coronavirus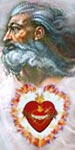 May 1, 2020 - God the Father says: "Today, I invite you to realize that this virus - the coronavirus - is no ordinary disease. It has been created from human ingenuity to specifically target the elderly and physically challenged. This is the plan of future generations to purify the human race around the world. It was released into the general population ahead of schedule - by accident. Those in charge were waiting for less capable government officials in your country (USA) to be in office. Nevertheless, proposed harm is being unleashed on the whole human race."
"I tell you these things to help you to realize the underlying evil at work and hidden in hearts these days. You cannot be confounded by any turn of events. Over all situations, I am in Dominion. No one will be given power over you that is more powerful than your Eternal Father. Therefore, be emboldened with this knowledge. If you persevere in Truth, you have loaded your weapons against what seems to be and discharged them with Truth." (Source: Holy Love)
Help the Lord spread His voice, time is running out
Please help spread these messages of faith, hope, salvation,
defense
against evil (by email, printing, Facebook, Twitter, and other media) to your loved ones, your friends, and all the people you may meet, who seek salvation or who are in danger of being eternally lost. The Lord gives great graces and blessings to those of goodwill who, according to their own possibilities, collaborate with His Plan of Salvation.
Who helps the Lord save a soul predestine his own
, independently from the outcome.