January 9, 2016
Call from God the Father to Humanity
The days of the great famine are approaching
"My peace be with you, My people, My Inheritance.
The days of this year will be shorter, the wickedness of this humanity has made everything that is written, accelerate. If the days were not shortened, the righteous would not be saved; there would be no survivors to inhabit the New Heavens and the New Earth.
The shortening of the days is another sign that Heaven gives you so that you may be prepared.
The wickedness and sin of this humanity are destroying the harmony of all that has been created. Everything in the universe is becoming unsynchronized because of sin and the wickedness of men; remember what I already told you: You are spiritual beings in a spiritual universe; the sin of single man affects many and the sin of many affects the entire universe.
The days of the great famine are approaching, become accustomed to living with only what is necessary; do not waste your food, because days of scarcity are coming; days where to have a piece of bread will be like to have a treasure.
Your material wealth will serve for nothing, since there will be nothing to eat.
They will be days of lament and of severe drought, the land will rebel against man and only bad fruit it will give. Screaming and despair will grip many and the famine will be so great that many women will cook their own children and they will serve as food (Lamentations 4:10).
People of Mine, listen: a Tribulation like the one never before been seen on Earth is approaching. War will be the beginning of everything; nuclear contamination will spread through the air and the sun will lose its luster; in many places, there will be darkness and the climate will change completely.
The contaminated land will not turn green again, nor will it bear fruit; nuclear pollution will make of many places a desert.
There will be water in very few countries, only those that have been faithful to M will have the precious liquid. Water will be more and more scarce than the gold of Ophir; woe to those nations that have turned their back on Me, because they will be treated in the same way tomorrow!
Reconsider evil nations, because the days of My Justice are approaching! Return to Me, before My Justice arrives, so that tomorrow you have nothing to lament for!
The horseman of the Famine has begun to pour out his cup upon the inhabitants of the earth.
Run to put your house in order, People of mine, because the night of My Justice is near!
My Warning is the last open door of My Mercy.
Be prepared, because that day is near, that you are not caught by the night to put your accounts in order, because you know very well that nighttime is time of justice and there will be no one to hear you.
Remember that I am coming to ask you for an account of your life and works, and many for not wanting to listen to Me, are going to be lost and not to wake up any longer to this world.
So, hurry, for the great and terrible day of the Lord is near!
Your Father, Yahweh, Lord of Nations."
Source: mensajesdelbuenpastor
The truth about the Coronavirus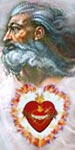 May 1, 2020 - God the Father says: "Today, I invite you to realize that this virus - the coronavirus - is no ordinary disease. It has been created from human ingenuity to specifically target the elderly and physically challenged. This is the plan of future generations to purify the human race around the world. It was released into the general population ahead of schedule - by accident. Those in charge were waiting for less capable government officials in your country (USA) to be in office. Nevertheless, proposed harm is being unleashed on the whole human race."
"I tell you these things to help you to realize the underlying evil at work and hidden in hearts these days. You cannot be confounded by any turn of events. Over all situations, I am in Dominion. No one will be given power over you that is more powerful than your Eternal Father. Therefore, be emboldened with this knowledge. If you persevere in Truth, you have loaded your weapons against what seems to be and discharged them with Truth." (Source: Holy Love)
Help the Lord spread His voice, time is running out
Please help spread these messages of faith, hope, salvation,
defense
against evil (by email, printing, Facebook, Twitter, and other media) to your loved ones, your friends, and all the people you may meet, who seek salvation or who are in danger of being eternally lost. The Lord gives great graces and blessings to those of goodwill who, according to their own possibilities, collaborate with His Plan of Salvation.
Who helps the Lord save a soul predestine his own
, independently from the outcome.