October 11, 2015: Message to the seer Lily of the Holy Face of Jesus (Giglio del Santo Volto)
God the Father: Requirements of the fires (the Apostles of the end times)
"Woe to those who dare to challenge their God, who call upon Him for their own needs and serve Him for the earthly glory.
Peace to you, children who love Me without measure.
Death of the soul to those who dare to make fun of the Supreme Universal Creator!
The God of Peace is ready to enter into the hearts of those who keep pure from every carnal and earthly desire.
However, the deceitful spirit, will take possession of the shameless man who moves away from the Divine Command.
Beware My beloved of the subtle traps of the enemy!
Pray My Heavenly Holy Messengers;
The Holy Archangels and all My Hosts, never like in these times have been assigned as your protection to rescue you.
Pray every day the Holy Angels, They will not let you move away from the Law and will protect you from the evil spirits, who are unleashed to steal souls that belong to Me.
Return to Me.
I will protect you; you will no longer have any fear.
The Transformation is about starting.
When you return to Me, and you will feel My presence within you with My Peace, you will be able to understand the action of the Spirit's Power, Who does not allow the evil contamination.
You will feel relieved and nothing can touch you any longer.
Fear will not take over in controlling your minds, but you will be in the Peace of the Lord.
The powers of evil will flee, because if you have Me, we will be one, and you will act in My Name.
The Evil spirits will flee, when your prayers are raised. When My Fires, the Apostles of the End Times are united in spirit, they will move mountains and will accomplish wonders.
They will have the power of hundred armies, when they unite and ask Me, God the Almighty, to accept their prayers.
They will be able to free souls imprisoned by the chains of evil and, in fortifying themselves from time to time, bring My far away children back to the Holy Fold.
My children be chaste and pure even in your thoughts. Do not attempt to prevail on one another.
Always remember that the last shall be first and you will not move forward of a single step, if you do not remain in simplicity.
Source: Allison Misti

The seer Lily of the Holy Face of Jesus (Giglio del Santo Volto), is a woman from Italy who lives a humble and hidden life. Those people whose heart belong to God, will recognize in these messages the voice of the Good Shepherd, God the Almighty, The Triune God: God the Father, God the Son, God the Holy Spirit, Who call all to salvation. Be the one who listens by abandoning a sinful life, by embracing prayer and by following the eternal 10 Commandments. Time is running out.
The truth about the Coronavirus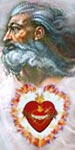 May 1, 2020 - God the Father says: "Today, I invite you to realize that this virus - the coronavirus - is no ordinary disease. It has been created from human ingenuity to specifically target the elderly and physically challenged. This is the plan of future generations to purify the human race around the world. It was released into the general population ahead of schedule - by accident. Those in charge were waiting for less capable government officials in your country (USA) to be in office. Nevertheless, proposed harm is being unleashed on the whole human race."
"I tell you these things to help you to realize the underlying evil at work and hidden in hearts these days. You cannot be confounded by any turn of events. Over all situations, I am in Dominion. No one will be given power over you that is more powerful than your Eternal Father. Therefore, be emboldened with this knowledge. If you persevere in Truth, you have loaded your weapons against what seems to be and discharged them with Truth." (Source: Holy Love)
Help the Lord spread His voice, time is running out
Please help spread these messages of faith, hope, salvation,
defense
against evil (by email, printing, Facebook, Twitter, and other media) to your loved ones, your friends, and all the people you may meet, who seek salvation or who are in danger of being eternally lost. The Lord gives great graces and blessings to those of goodwill who, according to their own possibilities, collaborate with His Plan of Salvation.
Who helps the Lord save a soul predestine his own
, independently from the outcome.