December 16, 2015: Message to the seer Lily of the Holy Face of Jesus (Giglio del Santo Volto)
Ready to show Myself to anyone who really wishes for it 
My children, I long that you learn to recognize Me wherever you are, in whoever is before you.
You will follow Me with your suffering and constant prayer, especially where there is a need, and you will be carriers of the Divine Light, although this will cause sorrow and the agony of the soul.
You are now more sensitive to what is dark around you and some of you will see evil through others, looking at them in the eyes and they will be affected by these manifestations.
You will be protected, do not be afraid, but it is clear that this means that I am asking you, even a short petition, which will be enough for Me to lay down My Liberating Hand upon those you will be presenting to Me.
Great gifts are going to be granted.
Soon you will be spectators of the Power of the Almighty and you will be healed from the evil of your soul that torments you, if you will be honest and humiliate yourselves before the Majesty of My Beloved Son, who will come not yet as a Judge to condemn, but to wash you in the Blood and the Water and to instruct you about the Great preparation, the last appeal to follow the Way of the Truth to the end, until His Intermediate Coming and the final Triumph.
I will urge each heart to open up to Me, not to retreat anymore and not to be afraid anymore for I have put My Grace, and the Protective Hand, so that nothing can touch you, harm you and get you away from Me, your Creator, the One, the Almighty over all things.
Hurry and do not point fingers, because the judgment is up to Me only, do not forget it.
Seek Me, I'm ready to show Myself to anyone who really wish for it.
So be it.
Source: Allison Misti

The seer Lily of the Holy Face of Jesus (Giglio del Santo Volto), is a woman from Italy who lives a humble and hidden life. Those people whose heart belong to God, will recognize in these messages the voice of the Good Shepherd, God the Almighty, The Triune God: God the Father, God the Son, God the Holy Spirit, Who call all to salvation. Be the one who listens by abandoning a sinful life, by embracing prayer and by following the eternal 10 Commandments. Time is running out.
The truth about the Coronavirus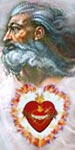 May 1, 2020 - God the Father says: "Today, I invite you to realize that this virus - the coronavirus - is no ordinary disease. It has been created from human ingenuity to specifically target the elderly and physically challenged. This is the plan of future generations to purify the human race around the world. It was released into the general population ahead of schedule - by accident. Those in charge were waiting for less capable government officials in your country (USA) to be in office. Nevertheless, proposed harm is being unleashed on the whole human race."
"I tell you these things to help you to realize the underlying evil at work and hidden in hearts these days. You cannot be confounded by any turn of events. Over all situations, I am in Dominion. No one will be given power over you that is more powerful than your Eternal Father. Therefore, be emboldened with this knowledge. If you persevere in Truth, you have loaded your weapons against what seems to be and discharged them with Truth." (Source: Holy Love)
Help the Lord spread His voice, time is running out
Please help spread these messages of faith, hope, salvation,
defense
against evil (by email, printing, Facebook, Twitter, and other media) to your loved ones, your friends, and all the people you may meet, who seek salvation or who are in danger of being eternally lost. The Lord gives great graces and blessings to those of goodwill who, according to their own possibilities, collaborate with His Plan of Salvation.
Who helps the Lord save a soul predestine his own
, independently from the outcome.