Traslation available in English and Italian, click on the below tabs
April 6, 2016: Message to the seer Lily of the Holy Face of Jesus (Giglio del Santo Volto)
God the Father: Many will lose their accumulated wealth 
(April 6, 2016) – What My Eyes of Father see is not good; your rebellion is not good toward the One Who gave you life, and the graces that are constantly bestowed upon you; graces you are unable to see.
The Angels are constantly in activities for the protection of My children; This is a special gift that the good Father has given you, freely and only for His immense goodness.
The iniquities of which you are guilty towards your God, are reaching the summit and the cup will overflow if you do not returned to Me, in the shortest possible time.
The Warning is close, and your souls are not yet able to reach the required level of purification in order not to suffer too much and to be able to help the sinners in need.
My children, some form of personal fasting would be necessary, to be able to become clean in spirit and heart.
By fasting, you would take your spirit to higher levels, closer to Me and this is why I urge you, with loving kindness, to follow a winding road, but the only one that can lead you to the highest peaks of the spirit.
Look at your lives and the fruits that today you are collecting.
Do you find in this something that belongs to the Kingdom of the Father, or to the prince of this world?
What wealth have you accumulated on earth, so far?
Material possessions do not bring you very high, they are vain glory and nothing more.
They are a passage toward perdition if you cannot get rid of them, be aware of it.
When the great conflict will arrive, many will lose their wealth accumulated by greed and will have to face the Almighty, because many are the riches of man earned with dishonesty and theft toward his neighbor.
This in My eyes is an extremely serious sin that must be paid for very hard, if you will not repent in sincere contrition of heart.
Whole generations have become enriched, by taking advantage and by abusing the most poor and needy.
This is, this is the hour, to apply Justice in favor of the most vulnerable. It is the hour of reckoning for those who have accumulated riches by underpaying and by subtracting in all dishonesty.
Know that the conflict will determine the closure of entire factories among the most active and many   material losses will follow.
But you need not to be afraid, you who are in the Truth and who have properly done each task, you will have the proper sustenance directly from Me and you will not suffer from it, if you will trust in the Most High.
The nourishment for both you and your families will never be missed.
I am the Almighty and I will not let a single one of My most faithful children to suffer unjustly.
But be clever, according to the indications that have been provided in the past.
Ask for a healthy discernment to understand the events and to understand when it will be the time to act on your savings that if honestly earned, must not be lost.
They will be of help for your stocks, both for yourself and for other people in distress.
We will show you, with the help of the Holy Angels and Archangels, when it is the moment to withdraw your money from safe places, or it would not be usable any longer.
Please trust your Father and do not be scared, because fear does not come from Me.
It is simply to act upon the advice of Heaven, to ensure that your sufferings are reduced; however, those who do not have enough money, will never be left on their own.
It will be the Divine Providence who will support you.
If you will be generous even in the little that you have, you will be given back a hundredfold.
Great is the Mercy of your God, which leaves nothing to chance and takes care of every creature in his smallest needs.
Get ready to welcome Mercy, and to receive the Grace of repentance and forgiveness: focus everything on your spirit and on your growth in virtue.
Ask for spiritual graces, so that you may walk toward the true Life in Christ Jesus, Who for My Will and His, gave Himself in order to make the perfection of the soul an actual reality so that you would be able to inherit what is a right of yours.
Raise your eyes toward Heaven and toward the things of the Kingdom, this only really matters.
Like a loving Father I bless you and I promise you My constant Divine Protection.
Dio Padre: Molti perderanno le ricchezze accumulate
(6 Aprile 2016) – Quello che vedono i Miei occhi di Padre non è bene; non è un bene questa ribellione a Chi vi Ha dato la vita e le grazie che vengono costantemente elargite; grazie, di cui nemmeno vi accorgete.
Gli Angeli sono costantemente in attività per la protezione dei Miei figli; questo è un Dono speciale che il buon Padre vi Ha elargito, gratuitamente e soltanto per Sua immensa bontà.
Le iniquità delle quali siete colpevoli verso il vostro Dio, stanno raggiungendo il culmine e la coppa traboccherà, se non tornate a Me, nel più breve tempo possibile.
L'Avvertimento è prossimo e le vostre anime non riescono ancora a raggiungere quel livello di purificazione affinché non soffriate troppo e possiate soccorrere i peccatori in difficoltà.
Figli Miei, qualche forma di digiuno personale sarebbe necessaria, per potervi pulire nello spirito e nel cuore.
Digiunando, portereste il vostro spirito a livelli più elevati, più vicino a Me ed è per questo che vi esorto, con amorevolezza, a seguire una strada tortuosa, ma l'unica che vi possa condurre verso le più alte vette dello spirito.
Guardate le vostre vite e i frutti che ad oggi ne state cogliendo.
Trovate in questo qualcosa che è del Regno del Padre, o del principe del mondo?
Quali ricchezze avete accumulato in terra, finora?
I beni materiali non vi portano molto in alto, sono vana gloria e nulla più.
Essi sono un varco verso le tenebre, se non riuscite a distaccarvene, siatene consapevoli.
Quando arriverà il grande conflitto, molti perderanno le ricchezze accumulate con avidità e dovranno pareggiate i conti con l'Altissimo, poiché molte sono le ricchezze dell'uomo guadagnate con disonestà e furto verso il prossimo.
Questo ai Miei occhi è un peccato gravissimo che deve essere scontato duramente, qualora non ve ne pentiste con sincera contrizione nel cuore.
Intere generazioni si sono arricchite, approfittando e abusando del più povero e bisognoso.
È l'ora, questa, di applicare la Giustizia in favore dei più deboli. È l'ora della resa dei conti di chi ha accumulato sottopagando e sottraendo in tutta disonestà.
Sappiate che il conflitto determinerà la chiusura di intere fabbriche tra le più attive e molte saranno le perdite materiali.
Ma non dovrete temere, voi che siete nella Verità e avete svolto correttamente ogni compito, avrete il giusto sostentamento direttamente da Me e non ne soffrirete, se avrete fiducia nell'Altissimo.
Il nutrimento per voi e le rispettive famiglie non verrà mai a mancare.
Io Sono l'Onnipotente e non permetterò che uno solo dei Miei fedelissimi figli debba soffrire ingiustamente.
Ma siate scaltri, secondo le indicazioni che vi sono state fornite in passato.
Chiedete un sano discernimento per la comprensione degli eventi e capire quando sarà arrivato il momento di agire sui vostri risparmi, che se onestamente accumulati, non debbono andare perduti.
Essi saranno di aiuto per le scorte, sia per voi stessi che per le altre creature in difficoltà.
Vi indicheremo, con l'aiuto dei Santi Angeli e Arcangeli, quando arriverà il momento di ritirare dai luoghi di sicurezza il denaro che altrimenti, non sarebbe più utilizzabile.
Vi prego di fidarvi del Padre e non spaventarvi, poiché la paura non viene da Me.
Si tratta semplicemente di agire sotto consiglio Celeste, per far sì che le sofferenze siano attenuate; tuttavia, chi non possiede denaro sufficiente, non sarà mai lasciato in balia di sé.
Sarà la Provvidenza Divina a sostenervi.
Se sarete generosi anche nel poco che possedete, ve ne sarà reso il centuplo.
Grande è la Misericordia del vostro Dio, che nulla abbandona al caso e cura ogni creatura nella più piccola necessità.
Preparatevi ad accogliere la Misericordia e a ricevere le Grazia del pentimento e del perdono: concentrate tutto sullo spirito e sulla crescita nelle Virtù.
Domandate grazie spirituali, affinché possiate camminare verso la vera Vita in Cristo Gesù, che per Mia e Sua Volontà Ha dato Se Stesso affinché la perfezione dell'anima possa diventare una realtà effettiva e possiate ereditare ciò che è vostro diritto.
Innalzate lo sguardo verso il Cielo e le cose del Regno, questo solo conta davvero.
Come Padre amorevole vi benedico e vi prometto la Mia costante Protezione Divina.
The seer Lily of the Holy Face of Jesus (Giglio del Santo Volto), is a woman from Italy who lives a humble and hidden life. Those people whose heart belong to God, will recognize in these messages the voice of the Good Shepherd, God the Almighty, The Triune God: God the Father, God the Son, God the Holy Spirit, Who call all to salvation. Be the one who listens by abandoning a sinful life, by embracing prayer and by following the eternal 10 Commandments. Time is running out.
Urgent call of Jesus the Eternal High Priest
August 9th 2020 from 12:00 am to 6:00 pm - Worldwide day of fasting and of prayer to the Heavenly Father for the protection of Catholic Temples, Shrines and Holy Places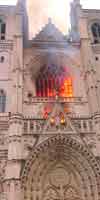 "I make an urgent call to the whole Catholic world for a day of fasting and of prayer to be held worldwide on August 9th with the prayer of the Rosary of my Most Precious Blood and with the prayer of the Exorcism of St. Michael, from 12:00 am to 6:00 pm, asking the Heavenly Father for the protection of my Temples, Shrines and Holy Places, which are being destroyed and desecrated by the forces of evil of this world. I'm counting on you, my Flock." —Jesus the Eternal High Priest
The truth about the Coronavirus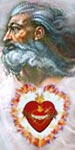 May 1, 2020 - God the Father says: "Today, I invite you to realize that this virus - the coronavirus - is no ordinary disease. It has been created from human ingenuity to specifically target the elderly and physically challenged. This is the plan of future generations to purify the human race around the world. It was released into the general population ahead of schedule - by accident. Those in charge were waiting for less capable government officials in your country (USA) to be in office. Nevertheless, proposed harm is being unleashed on the whole human race."
"I tell you these things to help you to realize the underlying evil at work and hidden in hearts these days. You cannot be confounded by any turn of events. Over all situations, I am in Dominion. No one will be given power over you that is more powerful than your Eternal Father. Therefore, be emboldened with this knowledge. If you persevere in Truth, you have loaded your weapons against what seems to be and discharged them with Truth." (Source: Holy Love)
Help the Lord spread His voice, time is running out
Please help spread these messages of faith, hope, salvation,
defense
against evil (by email, printing, Facebook, Twitter, and other media) to your loved ones, your friends, and all the people you may meet, who seek salvation or who are in danger of being eternally lost. The Lord gives great graces and blessings to those of goodwill who, according to their own possibilities, collaborate with His Plan of Salvation.
Who helps the Lord save a soul predestine his own
, independently from the outcome.