August 25, 2016: Message to the seer Lily of the Holy Face of Jesus (Giglio del Santo Volto)
God the Father: Look carefully not to deny the Signs and you will avoid other calamities
Dearest daughter, how many tests you have faced in these recent weeks.
Peace be with you and with your family.
Now everything will be fulfilled according to the plan of the Most High.
Be strong, then.
Scandinavia will experience great degradation and soon other regions of your (Italian) peninsula in which you live, will ask for help, beside those already hit by disasters and cataclysms.
All this happens because you are not able to move a single step toward the conversion of heart.
Strongly men oppose the works of the Most Holy Father and find it hard to recognize where the Divine nature operates.
But what would you be if not tiny grains of dust on a moving surface, without the help of your Creator?
Look carefully not to deny the Signs and you will avoid calling upon yourself other calamities.
Return to the Father, without being ashamed of your sins; I am ready to forgive.
My children I am heartbroken by the miserable human behavior.
You take  away dignity to your royal origin, unless you move away from the impurities that the world offers you.
Help reduce with fervent prayer the symptoms of evil that affects purity.
Calm your senses toward worldly pleasures and you will feel lightened in your heart.
For the one who sins against the purity of the body and of the mind, creates in itself a barrier that takes away visibility to the Light of God.
Get rid of the ballasts now.
Focus yourselves on life, according to the meaning I gave to it and not upon the ephemeral one.
Listen and you will avoid other environmental disasters.
Grow in spirituality and listen to those I send to spread the Word.
It is Salvation.
It is a priceless Gift, to overcome the barriers that hinder you from knowing Me, the Father.
Go in peace and seek only the Truth of the Kingdom.
Nothing else counts.
So be it.
The seer Lily of the Holy Face of Jesus (Giglio del Santo Volto), is a woman from Italy who lives a humble and hidden life. Those people whose heart belong to God, will recognize in these messages the voice of the Good Shepherd, God the Almighty, The Triune God: God the Father, God the Son, God the Holy Spirit, Who call all to salvation. Be the one who listens by abandoning a sinful life, by embracing prayer and by following the eternal 10 Commandments. Time is running out.
Fr. Michel Rodrigue explaines The Events of the End Times
Do you want a quick overview of the end times? Then read "The great events of purification will begin this fall". If you want all the details of the unfolding events, then go to "Virtual Spiritual Retreat with Fr. Michel Rodrigue about the End Times".
Messages of Holy Love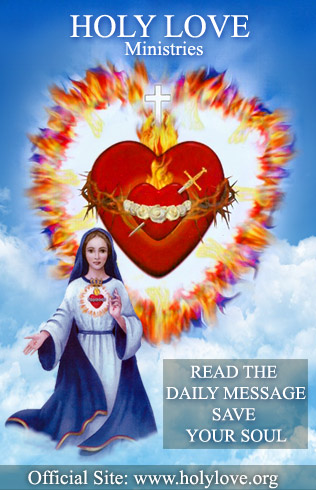 Read the daily messages
Catholics, we have entered the Pre-Tribulation, observe the Commandments, go to Confession; receive the Holy Eucharist; pray at least 3 Rosaries a day to keep your faith and save your loved ones. Prepare for the events that will devastate our planet: plagues, famine, WW3, cataclysms, antichrist's World Order