February 8, 2017: Message to the seer Lily of the Holy Face of Jesus (Giglio del Santo Volto)
God the Father: Italy, to beg for heat, food, water, will suffer imprisonment, invasion
Alas! The glory of Israel, Saul, slain upon your heights; how can the warriors have fallen!
 (2 Samuel 1:19)
Listen to the word of the LORD, kings of Judah and citizens of Jerusalem: Thus says the LORD of hosts, the God of Israel: I am going to bring such evil upon this place that all who hear of it will feel their ears tingle
(Jeremiah 19: 3)
"My children do not walk away from Me or I will not be able to provide the protection you need.
The succession of events should ensure that men are able to understand the difficult time of human history.
Everything is progression and in disruption, while a small percentage of humble hearts respond to the sent appeals by praying and by offering sacrifices and penances.
Oh My children, if you saw what your beloved lands are going to suffer!
You would weep offering as much as possible so that your children would not see and would not live the environmental disasters and their distressed consequences!
An Italy divided in its territory.
An Italy left to itself from the rest of the nations.
A shocked and hungry Italy, poor and reduced to beg for heat, food and water.
On top of that, [Italy] will suffer imprisonment and invasion.
Nothing the leaders in power, will be able to do.
They will bow down to the bad fate, powerless because of the lack of defenses.
You only, My beloved children, would be able to provide protection and increase the defense, before the enemies of the East move in your direction.
The the program of the invasion is already in place; It has been planned since long time with the cooperation of those who live in falsehood and in hypocrisy.
Look, how obvious are their intentions and the abomination takes place by spreading like wildfire.
It is also true that the prayer of My children has woken up many hearts from their sleep but, will they be enough strong to hold the weight of the truth before they are sent the Act of Mercy and to fight to defend it?
The seed falls, but often does not sprout.
Man works hard to hold the point about the truth of the facts.
Man is not so strong and does not stand the crushing weight of bad societies, to which he soon adapt again.
This is why the time of the meeting with My Son approaches; because man does not get himself lost further and acquire new strength in his spirit, so that he comes to know the Truth and Its true Origin and not to despise It any longer, but to give It the value It deserves.
I rejoice as Father, for I have a special gift holding for all who have not yet met Me, and that I want to hug again paternally.
Rejoice My children and happily wait what you have been promised.
Although you will be amid suffering and difficulties, you will know that the right purification is needed in order to earn the reward, and this will offer you greater strength and a better endurance of the started cataclysms and scourges.
Listen to the coming appeals from every corner of the earth.
You will see that every foreseen fact will occur.
It is not your task to know the day, nor the hour.
Know in any case, that between God the Father and His own sons, a strong collaboration and harmony exist.
To make you better understand it: I am still waiting for those who, slowly, are walking in the path of Truth.
This is the reason why the timing is not known to man, but is handled by God.
Accept it and do not put your Lord to the test; keep the faith.
Do not waver, but find within you the strength to trust the Father's plans, and finally, you will have the responses you are waiting for.
Do not be afraid, but be strong in faith and you will become bearers of hope wherever it seems lost.
I love you and I wait with you the moment to meet by urging you to be prepared worthily to receive the awaited Joy.
God the Father, Justice and Mercy blesses you."
For when you punished our adversaries, in this you glorified us whom you had summoned
(Wisdom 18: 8)
On their lips no deceit has been found; they are unblemished.
(Revelation 14: 5)
This is evidence of the just judgment of God, so that you may be considered worthy of the kingdom of God for which you are suffering
(2 Thessalonians 1: 5)
Let no one deceive you in any way. For unless the apostasy comes first and the lawless one is revealed, the one doomed to perdition, who opposes and exalts himself above every so-called god and object of worship, so as to seat himself in the temple of God, claiming that he is a god
(2 Thessalonians 2: 3, 4)
Source: Giglio del Santo Volto
Urgent call of Jesus the Eternal High Priest
August 9th 2020 from 12:00 am to 6:00 pm - Worldwide day of fasting and of prayer to the Heavenly Father for the protection of Catholic Temples, Shrines and Holy Places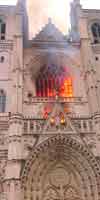 "I make an urgent call to the whole Catholic world for a day of fasting and of prayer to be held worldwide on August 9th with the prayer of the Rosary of my Most Precious Blood and with the prayer of the Exorcism of St. Michael, from 12:00 am to 6:00 pm, asking the Heavenly Father for the protection of my Temples, Shrines and Holy Places, which are being destroyed and desecrated by the forces of evil of this world. I'm counting on you, my Flock." —Jesus the Eternal High Priest
The truth about the Coronavirus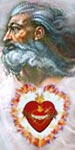 May 1, 2020 - God the Father says: "Today, I invite you to realize that this virus - the coronavirus - is no ordinary disease. It has been created from human ingenuity to specifically target the elderly and physically challenged. This is the plan of future generations to purify the human race around the world. It was released into the general population ahead of schedule - by accident. Those in charge were waiting for less capable government officials in your country (USA) to be in office. Nevertheless, proposed harm is being unleashed on the whole human race."
"I tell you these things to help you to realize the underlying evil at work and hidden in hearts these days. You cannot be confounded by any turn of events. Over all situations, I am in Dominion. No one will be given power over you that is more powerful than your Eternal Father. Therefore, be emboldened with this knowledge. If you persevere in Truth, you have loaded your weapons against what seems to be and discharged them with Truth." (Source: Holy Love)
Help the Lord spread His voice, time is running out
Please help spread these messages of faith, hope, salvation,
defense
against evil (by email, printing, Facebook, Twitter, and other media) to your loved ones, your friends, and all the people you may meet, who seek salvation or who are in danger of being eternally lost. The Lord gives great graces and blessings to those of goodwill who, according to their own possibilities, collaborate with His Plan of Salvation.
Who helps the Lord save a soul predestine his own
, independently from the outcome.