January 2, 2017: Apparition of  of Our Lady in  Medjugorje
 VIDEO (Audio in Italian – At minute  2:49  the rat (the evil spirit or the devil as you prefer) makes his presence heard):

As you can see in this video of the last apparition of the Virgin Mary to the blue cross of January 2, 2017, there  is a "spiritually" disturbed person who  literally unleashes her rage by screaming loudly and by speaking in unknown tongues, is shouting the name of the devil several times in an unequivocal way. The voice that is being heard in the video, even if it is sounding like man's voice, it is  in reality of a young girl who unfortunately lives this true spiritual nightmare of a demonic possession.
Source: La Luce di Maria
Stay away from any kind of evil or sins that you understand as such, especially the ones of the flesh. 
Carnal sins are magnets for large number of demons who bring  all kind of violence and sufferings. Remember that depression is a demonic possession. 
Defend yourself: Pray daily and go to Confession, receive the Lord Jesus in Holy Communion. This way you fight back and punish dearly that evil rat as he deserves for all the sufferings he inflicts upon you and your loved ones.
Know your Enemy
Defend yourself and save your soul
The truth about the Coronavirus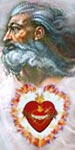 May 1, 2020 - God the Father says: "Today, I invite you to realize that this virus - the coronavirus - is no ordinary disease. It has been created from human ingenuity to specifically target the elderly and physically challenged. This is the plan of future generations to purify the human race around the world. It was released into the general population ahead of schedule - by accident. Those in charge were waiting for less capable government officials in your country (USA) to be in office. Nevertheless, proposed harm is being unleashed on the whole human race."
"I tell you these things to help you to realize the underlying evil at work and hidden in hearts these days. You cannot be confounded by any turn of events. Over all situations, I am in Dominion. No one will be given power over you that is more powerful than your Eternal Father. Therefore, be emboldened with this knowledge. If you persevere in Truth, you have loaded your weapons against what seems to be and discharged them with Truth." (Source: Holy Love)
Help the Lord spread His voice, time is running out
Please help spread these messages of faith, hope, salvation,
defense
against evil (by email, printing, Facebook, Twitter, and other media) to your loved ones, your friends, and all the people you may meet, who seek salvation or who are in danger of being eternally lost. The Lord gives great graces and blessings to those of goodwill who, according to their own possibilities, collaborate with His Plan of Salvation.
Who helps the Lord save a soul predestine his own
, independently from the outcome.