October 7, 2015
Call from Jesus the Good Shepherd to his flock
Europe will be conquered again by the sons of Islam
"Peace be with you, sheep of My flock.
The tentacles of Islam are multiplying. Its culture and doctrine are invading Europe; this is how it is going to be fulfilled what has been prophesied about the invasion of Islamism, which will bring chaos and division to those nations that turned their back to Me.
The holy war is expanding and soon the army of the black flag that serves my adversary will spill blood over the old continent.
Europe will be conquered again by the sons of Islam who will impose their culture and religion from place to place.
In the time of the anti-christ's ruling, he will be served by the armies of the fundamentalists and it will be Europe and its countries the ones to suffer the most under the domination and harshness of the government of the being of iniquity. 
The holy war that has been started will be spreading into other nations and will start the Third World War.
Israel will suffer and will lament, once again, Jerusalem will be destroyed, and the daughters of Sion will be sullied.
The armies of Gog and Magog are ready to start the great Armageddon.
The fuse has been lit and the kings of the occult, who make all plans in clandestine, in their secret meetings have approved to start the great tribulation.
My flock do not stray away from Me.
Listen to My voice and follow Me as the wolves are approaching.
Their howling can be already heard, they come to bring desolation, chaos and death; come my sheep, don't disperse yourselves; I am calling you through my emissaries, listen to them because it is My voice that is calling you to be gathered.
The night is coming and with it the time of the wolves. Be prudent my sheep and do not open your heart to anyone; do not be caught by the dark so you do not have to lament.
Gather early in your sheepfolds and feed on my Word so that you will not be deceived.
I am waiting for you in my Eternal Fold, still little time is left before seeing each other; I want to take you to the green pastures and fresh waters where you will satisfy your hunger and will quench your thirst. I am waiting for you; do not be late. My arms are open to welcome you, to give you love and abundant life.
Your Eternal Shepherd, Jesus the Good Shepherd of all times, loves you.
Let my messages be known to the all of humankind.
Your Teacher, Jesus the Good Shepherd.
Let my messages be known to the all of humankind."
Source: mensajesdelbuenpastorenoc.org
The truth about the Coronavirus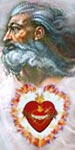 May 1, 2020 - God the Father says: "Today, I invite you to realize that this virus - the coronavirus - is no ordinary disease. It has been created from human ingenuity to specifically target the elderly and physically challenged. This is the plan of future generations to purify the human race around the world. It was released into the general population ahead of schedule - by accident. Those in charge were waiting for less capable government officials in your country (USA) to be in office. Nevertheless, proposed harm is being unleashed on the whole human race."
"I tell you these things to help you to realize the underlying evil at work and hidden in hearts these days. You cannot be confounded by any turn of events. Over all situations, I am in Dominion. No one will be given power over you that is more powerful than your Eternal Father. Therefore, be emboldened with this knowledge. If you persevere in Truth, you have loaded your weapons against what seems to be and discharged them with Truth." (Source: Holy Love)
Help the Lord spread His voice, time is running out
Please help spread these messages of faith, hope, salvation,
defense
against evil (by email, printing, Facebook, Twitter, and other media) to your loved ones, your friends, and all the people you may meet, who seek salvation or who are in danger of being eternally lost. The Lord gives great graces and blessings to those of goodwill who, according to their own possibilities, collaborate with His Plan of Salvation.
Who helps the Lord save a soul predestine his own
, independently from the outcome.