September 27, 2019
Once again, I (Maureen) see a Great Flame that I have come to know as the Heart of God the Father. He says:
"Whenever disunity is promoted towards one's own personal gain you have evil in your midst. Unity is strength. Those who falsely discredit another, very often find their own reputation besmirched."
"Do not abandon the Truth for the sake of your own welfare. I do not bless such efforts. My Protection and My Provision rests upon the honest endeavors that seek the welfare of all people. If you attempt to surround honest leadership with controversy, how does this merit the good of all? In the case of your nation,* evil sees this as the only path to victory."
"Do not surrender your high standards of Truthful leadership to those grasping for straws. Stay on the sure path of unity behind honest leaders who desire only your welfare. I will bless such efforts."
* U.S.A.
Read Galatians 5:13-15+
For you were called to freedom, brethren; only do not use your freedom as an opportunity for the flesh, but through love be servants of one another. For the whole Law is fulfilled in one word, "You shall love your neighbor as yourself." But if you bite and devour one another take heed that you are not consumed by one another.
Read James 3:13-18+
Who is wise and understanding among you? By his good life let him show his works in the meekness of wisdom. But if you have bitter jealousy and selfish ambition in your hearts, do not boast and be false to the truth. This wisdom is not such as comes down from above, but is earthly, unspiritual, devilish. For where jealousy and selfish ambition exist, there will be disorder and every vile practice. But the wisdom from above is first pure, then peaceable, gentle, open to reason, full of mercy and good fruits, without uncertainty or insincerity. And the harvest of righteousness is sown in peace by those who make peace.
September 28, 2019
Once again, I (Maureen) see a Great Flame that I have come to know as the Heart of God the Father. He says:
"I come to establish in the world devotion to My Paternal Heart. My Heart is My Will. It is the Beginning and the End. Every plan of man to be worthy must first be grounded in My Paternal Heart. My Heart is the defeat of Satan and the victory of My Son. Every present moment is the creation of My Heart. There is no temptation towards evil that mankind faces alone or that My Heart cannot overcome. Learn to call upon the power of My Paternal Heart just as a child seeks the protection and guidance of his father."
"I am calling all people and all nations into the secure refuge of My Heart. Herein, mankind will be reconciled with the Truth. It is during these times of confusion which weigh upon the heart of the world that all of humanity must have recourse to My Paternal Heart in order to survive spiritually. From My Heart flows all Truth and the recognition of Truth in a world which tries to redefine the Truth. The reality of the purpose of man's existence, which is his salvation, comes to light in My Paternal Heart."
Read Psalm 4:2-3+
O sons of men, how long will you be dull of heart?
How long will you love vain words, and seek after lies?
But know that the Lord has set apart the godly for himself;
the Lord hears when I call to him.
September 29, 2019 – Feast of the Archangels – St. Michael, St. Gabriel and St. Raphael
Once again, I (Maureen) see a Great Flame that I have come to know as the Heart of God the Father. He says:
"There are wars being waged in the world today which will not be resolved, as they are based upon pagan religions. Any religion which encourages violence is not from Heaven. Wars always begin in hearts first and then spill out into the world. This is why I continue to address the heart of the world in an effort to transform goals from evil to good."
"Opinions that people hold in their hearts direct actions. Actions based upon erroneous – even evil opinions – chart the course of human history. I do not interfere with free-will choices. Instead, I give you the Scriptures, the saints and righteous leaders to help you form your opinions according to My Commandments."
"Violence is never the solution to any disagreement. Acceptance of the Truth is. This is why I call all people and all nations into the Truth of obedience to My Commandments. Express your love for Me through this obedience. Then your hearts and the world around you will be at peace."
Read Deuteronomy 5:1+
And Moses summoned all Israel, and said to them, "Hear, O Israel, the statutes and the ordinances which I speak in your hearing this day, and you shall learn them and be careful to do them."
September 29, 2019 – Feast of the Archangels – St. Michael, St. Gabriel and St. Raphael
St. Michael the Archangel says: "Praise be to Jesus."
"The expanse of my wings is over this property* and all who come here to pray. I follow them in their daily lives. I never abandon a soul devoted to me and to the holy angels."
"You will succeed in all your endeavors if you seek first my protection and my aid."
* The apparition site of Maranatha Spring and Shrine.
September 29, 2019 – Feast of the Archangels – St. Michael, St. Gabriel and St. Raphael
The Blessed Virgin Mary says: "Praise be to Jesus."
"My daughter, the most and the least you can do for someone who lives their life outside of Holy Love is to pray for them."
September 30, 2019
Once again, I (Maureen) see a Great Flame that I have come to know as the Heart of God the Father. He says:
"Dear children, venerate My Paternal Heart with your filial confidence. There is no higher praise you can give Me. I desire only the best for you, which is whatever leads you to your salvation. Sometimes you are tempted to dislike My Will for you. However, you do not see the full and long-term picture as I do. If you love Me, you will always have the proper attitude in any circumstance – an attitude of trust."
"As the soul advances in holiness, he must beware of spiritual pride. He must not presume he has advanced to the ranks of sanctity by measure of graces received or by what he considers attacks from Satan. These are all traps from evil and not from Me. Learn to develop a more interior life, which allows you to keep these things between you and Me. Do not try to appear holy or chosen to impress others."
Read Psalm 4:2-3+
O sons of men, how long will you be dull of heart?
How long will you love vain words, and seek after lies?
But know that the Lord has set apart the godly for himself;
the Lord hears when I call to him.
October 1, 2019
Once again, I (Maureen) see a Great Flame that I have come to know as the Heart of God the Father. He says:
"My children, I have come to help you to see the ways that Satan uses to infiltrate the heart of the world. His influence is greatly felt in the world of entertainment, literature and the news media. He is prominent in the area of politics. He makes political issues out of sin. This is why your opinions and choices are what brings you closer to Me or farther away."
"Think about what you are supporting and what you stand for. These things should be a reflection of your love of Me above all else. Do not be influenced by who says what or who does what. Your choices and opinions are your passport to Heaven or to your perdition. Pray for the wisdom not to follow the crowd or some unworthy leader, but to recognize the path of righteousness. I am watching. Your eternal judgment is based upon your choices in the world."
Read Titus 2:11-14+
For the grace of God has appeared for the salvation of all men, training us to renounce irreligion and worldly passions, and to live sober, upright, and godly lives in this world, awaiting our blessed hope, the appearing of the glory of our great God and Savior Jesus Christ, who gave himself for us to redeem us from all iniquity and to purify for himself a people of his own who are zealous for good deeds.
Read Philippians 2:14-16+
Do all things without grumbling or questioning, that you may be blameless and innocent, children of God without blemish in the midst of a crooked and perverse generation, among whom you shine as lights in the world, holding fast the word of life, so that in the day of Christ I may be proud that I did not run in vain or labor in vain.
October 2, 2019
Once again, I (Maureen) see a Great Flame that I have come to know as the Heart of God the Father. He says:
"People, places and things once regarded as holy have been compromised by liberalism. Such as these are still regarded with the respect which they used to deserve. This is where the Truth becomes compromised. Confusion is the bad fruit of all of this."
"People in offices of esteem should earn the respect of those whom they influence. Therefore, be cautious as to the ones you hold in esteem. Some I have placed in position by My Own Hand. Others are chosen by a human effort and become unworthy of your loyalty. Titles do not make the man. Man's efforts – good or evil – define him. Titles alone are not worthy of your loyalty. Do not clamor after importance in human eyes. Seek to please Me. Do not lend credence to any abuse of authority. This gives strength and power to evil."
"Whom and what you support in this life will follow you into eternity. Choose wisely."
Read Ephesians 5:6-10+
Let no one deceive you with empty words, for it is because of these things that the wrath of God comes upon the sons of disobedience. Therefore do not associate with them, for once you were darkness, but now you are light in the Lord; walk as children of light (for the fruit of light is found in all that is good and right and true), and try to learn what is pleasing to the Lord.
October 3, 2019
Once again, I (Maureen) see a Great Flame that I have come to know as the Heart of God the Father. He says:
"In the natural world, sometimes you have foggy conditions. The fog makes distant vision difficult at best. In the spiritual world, you also have foggy conditions. This occurs when the Truth is obscured. Then the far-distant consequences of thoughts, words and actions are obscured."
"As your loving Father, I give free will every opportunity to prove itself in righteousness. I step back and wait for free will to take its course. These days, however, I cannot chance further error which pulls the heart of the world farther away from Me. This is why you have more severe natural disasters. This is why you experience seasons out of season. This is why illicit laws are being passed and evil is chosen to serve in the highest places. All of these things are taking place so that mankind will turn in desperation to My Paternal Heart."
"The Flame of My Heart longs to consume all of humanity with the fire of My Love. Unfortunately, most do not turn to Me except in desperation. Still, I will not spurn any repentant heart. Do not be afraid or feel too guilty to come to Me. I am always as close as your next prayer."
Read Ephesians 5:15-17+
Look carefully then how you walk, not as unwise men but as wise, making the most of the time, because the days are evil. Therefore do not be foolish, but understand what the will of the Lord is.
October 4, 2019
Once again, I (Maureen) see a Great Flame that I have come to know as the Heart of God the Father. He says:
"Once again, children, I must caution you as to whose opinions you accept as the Truth. Are these opinions based upon lust for power or ambitious efforts towards positions of authority? The abuse of the Truth has led to many a downfall of governments based upon good."
"The damaging of reputations to promote self-gain should never be a goal in politics or in any relationship. It is always evil that opposes good. It is always evil which tries to destroy Truth. You must look at the results of a person's efforts despite opposition to determine if he is good or evil. Be united in My Paternal Heart in favor of good over evil. Do not belittle the efforts of evil forces, but be united in My Heart to win the battle against the Truth."
Read Philippians 2:1-4+
So if there is any encouragement in Christ, any incentive of love, any participation in the Spirit, any affection and sympathy, complete my joy by being of the same mind, having the same love, being in full accord and of one mind. Do nothing from selfishness or conceit, but in humility count others better than yourselves. Let each of you look not only to his own interests, but also to the interests of others.
October 7, 2019
Feast of Our Lady of the Most Holy Rosary – 3:00 P.M. Service
(This Message was given in multiple parts over several days.)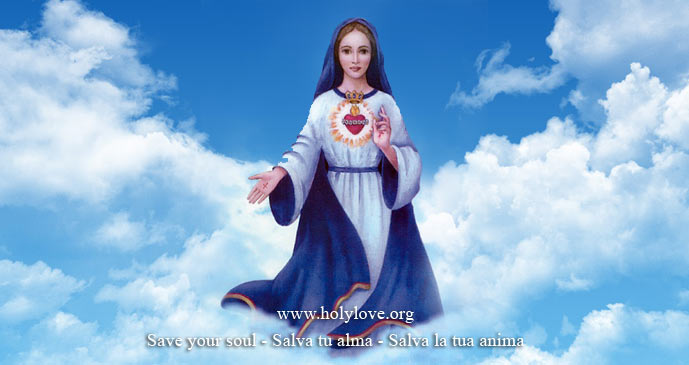 Blessed Mother is here* as Mary, Refuge of Holy Love and She has a pulsating light around Her. She says: "Praise be to Jesus."
"Dear children, I have come, once again, to call you back into My Arms and into My Immaculate Heart through the prayer of the Holy Rosary. Through the rosary, the state of the world can be changed. Sin can be recognized as sin. My children will desire to please God and not to offend Him anymore. I cannot change the heart of the world without your help. It is by your efforts the course of human history can be altered. You must use your rosaries as the weapon of these times against evil."
"Satan is active in every area of human existence. People do not recognize him, as they do not look for him. Conflicts, controversies and collusions are regarded as human nature. Crimes and terrorism are seen as erroneous choices by a few. False religions have won the hearts of many."
"I do not come to you to bring hopelessness, but hope in devotion to My rosary."
"Dear children, right reason is offered here as a grace for those who journey in search of the Truth. Right reason destroys lies and myths about this Ministry.** If you choose to believe with faith, your faith will open the door of your heart to see the reality of good versus evil. Only then can you see the reasons for unwarranted attacks upon Heaven's efforts here. The fate of many souls weighs in the balance. Acceptance of the graces offered here can change hearts and, so too, the world."
"It is only when you recognize evil that you can destroy it in your midst. You cannot fight any enemy you do not recognize and do not see."
"The greatest threat to the future of the world today is the evil which exists in hearts. Weapons of mass destruction are not a threat unless they are employed by man. Disputes amongst nations will not result in war unless evil wins out in hearts. The ongoing battle of good versus evil in hearts is the war that must be won for the survival of mankind. This is why the conversion of the heart of the world brings Me back to earth over and over."
"I come to plead with all of mankind to return to love of God above all else and neighbor as self. Pick up your rosaries and pray wholeheartedly for this, My most pressing intention. You do not comprehend the anguish of My Son's Heart or His Wrath, the Arm of which I hold back."
"Dear children, I will answer your prayers in your best interests when you pray the rosary. Your devotion to My rosary is a sign to Satan that you belong to Me. Always carry your rosaries with you. Be devoted especially to the Rosary of the Unborn. This is a victory we must win – trampling abortion under our feet. It is then, the United Hearts can be triumphant and the world will, once again, be safe."
"Please be united, dear children, in your efforts to defeat Satan with your rosaries."
"Whole nations have succumbed to his leadership. Some even with knowledge of what they're doing."
"Dear children, appreciate the Message which I have imparted to you in the course of the last couple of days. Understand that I am speaking to the heart of each one of you, listen and obey."
"Today, I am imparting to you My Special Blessing."
* The apparition site of Maranatha Spring and Shrine.
** The ecumenical Ministry of Holy and Divine Love at Maranatha Spring and Shrine.
Source: Holy Love
The truth about the Coronavirus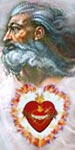 May 1, 2020 - God the Father says: "Today, I invite you to realize that this virus - the coronavirus - is no ordinary disease. It has been created from human ingenuity to specifically target the elderly and physically challenged. This is the plan of future generations to purify the human race around the world. It was released into the general population ahead of schedule - by accident. Those in charge were waiting for less capable government officials in your country (USA) to be in office. Nevertheless, proposed harm is being unleashed on the whole human race."
"I tell you these things to help you to realize the underlying evil at work and hidden in hearts these days. You cannot be confounded by any turn of events. Over all situations, I am in Dominion. No one will be given power over you that is more powerful than your Eternal Father. Therefore, be emboldened with this knowledge. If you persevere in Truth, you have loaded your weapons against what seems to be and discharged them with Truth." (Source: Holy Love)
Help the Lord spread His voice, time is running out
Please help spread these messages of faith, hope, salvation,
defense
against evil (by email, printing, Facebook, Twitter, and other media) to your loved ones, your friends, and all the people you may meet, who seek salvation or who are in danger of being eternally lost. The Lord gives great graces and blessings to those of goodwill who, according to their own possibilities, collaborate with His Plan of Salvation.
Who helps the Lord save a soul predestine his own
, independently from the outcome.