May 27, 2018
Urgent call of Jesus ​​in the Blessed Sacrament to humanity, message to Enoch
Days and nights will be shortened
"My children, My peace be with you.
My little ones, sadness overwhelms Me when I see this humanity that does not want to listen to Me; I long with love for all My children, righteous and sinners and even more for those who despise Me, who do not love Me and hit Me daily with the whip of their sins. Oh, how much indifference I feel on the part of this ungrateful and sinful humanity!
They seek Me only from lips and ears, but their hearts are separated from Me; there is no commitment or desire to change, they are not interested at all in the path to conversion.
I am only God for this ungrateful humanity, when trials and misfortunes knock at their doors. There, they come to demand that I put a remedy to their ills, they seek Me out of necessity, not out of desire for conversion; They do not come to praise Me or to thank Me for the Gift of Life, which is more valuable than everything they come to ask Me for.
Many approach Me, only when economic trials reach them, they make thousands of promises that they will never fulfill and by not fulfilling them, they tie themselves spiritually. I am not the God of your whims. Do not be foolish! Seek Me first with sincere heart; kneel before Me, with a contrite and humiliated heart and the rest will come to you in addition.
My children,  days and nights will be shortened, remember what My Word says: And if those days were not shortened, nobody would be saved. (Matthew 24. 22) The approaching tribulation has never been seen before on earth: your sin and evil have unleashed My Justice.
Oh, sinful humanity, you are going to know suffering and many because of their evil and sin, are going to live hell on this earth! All those who have turned their backs on Me and not their face, will be at the mercy of My adversary and his hosts of evil. After the Warning, those who do not convert, I will separate them from Me.
I come with My Justice to restore order and the right to separate the wheat from the chaff and the sheep from the goats; so that only the good harvest remains and its fruit to be pleasing in the eyes of My Father.
I will take this humanity through the oven of tribulation, only those who pass the trial, will be able to inhabit My New Creation. Those days are approaching and woe to the lukewarm of heart, because in truth I say unto you, if you do not change and define once for all, I will separate you from Me, and give you in the hands of My adversary! The night approaches and with it comes My Justice, that It finds you awake and with the lamps lit like the wise maidens, so that you can be at the banquet and have dinner with Me.
Peace I leave with you, My peace I give you. Repent and convert, because the Kingdom of God is near. Your Teacher, Jesus in the Blessed Sacrament.
Make My messages known to all humanity, flock of Mine."
Source: mensajesdelbuenpastor
Urgent call of Jesus the Eternal High Priest
August 9th 2020 from 12:00 am to 6:00 pm - Worldwide day of fasting and of prayer to the Heavenly Father for the protection of Catholic Temples, Shrines and Holy Places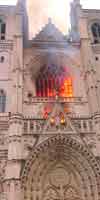 "I make an urgent call to the whole Catholic world for a day of fasting and of prayer to be held worldwide on August 9th with the prayer of the Rosary of my Most Precious Blood and with the prayer of the Exorcism of St. Michael, from 12:00 am to 6:00 pm, asking the Heavenly Father for the protection of my Temples, Shrines and Holy Places, which are being destroyed and desecrated by the forces of evil of this world. I'm counting on you, my Flock." —Jesus the Eternal High Priest
The truth about the Coronavirus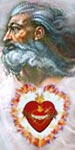 May 1, 2020 - God the Father says: "Today, I invite you to realize that this virus - the coronavirus - is no ordinary disease. It has been created from human ingenuity to specifically target the elderly and physically challenged. This is the plan of future generations to purify the human race around the world. It was released into the general population ahead of schedule - by accident. Those in charge were waiting for less capable government officials in your country (USA) to be in office. Nevertheless, proposed harm is being unleashed on the whole human race."
"I tell you these things to help you to realize the underlying evil at work and hidden in hearts these days. You cannot be confounded by any turn of events. Over all situations, I am in Dominion. No one will be given power over you that is more powerful than your Eternal Father. Therefore, be emboldened with this knowledge. If you persevere in Truth, you have loaded your weapons against what seems to be and discharged them with Truth." (Source: Holy Love)
Help the Lord spread His voice, time is running out
Please help spread these messages of faith, hope, salvation,
defense
against evil (by email, printing, Facebook, Twitter, and other media) to your loved ones, your friends, and all the people you may meet, who seek salvation or who are in danger of being eternally lost. The Lord gives great graces and blessings to those of goodwill who, according to their own possibilities, collaborate with His Plan of Salvation.
Who helps the Lord save a soul predestine his own
, independently from the outcome.