Be Truly Light
Jesus says: (Gesù Our Teacher, Vol. 1) "My children, I am here with you and I give you my peace, my grace and my love. You have renounced sleep and rest, and you have undertaken to be living torches for the world that lies in darkness. May you be truly the light that illuminates and which warms you up! This is my wish and yours.
Do not fear anything, you are with Me. Do not let error frighten you since it does not always bring a true evil. In fighting error truth is increased and it is for this reason that many times, I permit error to spread.
You love the truth since I am the Truth, that is as if to say I am the Light. Study the truth since in it you will find freedom and with it joy. Freedom, my children, the evil one cannot give you, who, being also a slave, wants to bring everyone into his state of slavery.
Whoever sins becomes, under Satan's domination, a little slave. Know however, that the demon is like a chained dog that barks but cannot bite because he is not free. Only you can grant him the freedom and open the door of the house to him.
Do not give the demon the freedom to act in you, defend yourselves from the assaults of the enemy with those weapons that God gives you. May prayer and penance return to triumph in the world which believes that it can do everything by itself and, trusting only in itself, it thinks it can succeed in all its undertakings.
If you do not invoke the help of your Creator with prayer, how will you be able to discover and master nature which from Him had it's life and beginning?
So, my children, He who has created you and knows all the secrets of your heart, of your mind and the laws that regulate your body, does not ask but that you obey Him and give Him in this subjection a sign of love. That's why prayer is necessary for individuals and for society, for mankind and for the world.
All things are held up by Him who, in instituting the laws, preserves and directs them. Oh, my children, if in an act of infinite love the Father willed to give life to creatures, on whom to pour out the immensity of his love and if, after having created the world and man who inhabits it, He willed to send Me his Divine Son to redeem it, know that his infinite and immense love is poured out continuously on everybody and each one. Believe, my children, that the Father and I love you with a tenderness that you will be able to measure only when you will be in the sight of God and enjoy his love.
God loves you and gives you life through that Divine Spirit who proceeds from the Father and from Me and who animates, with the strength of his love the Church, making it fruitful and holy, and also your souls, He who has invited you to prayer in this first night of May, just as He calls you to a life of holiness and good.
Children, I am here with you and I help you. Do not leave here without making some serious good intentions. I will infuse in you the desire to change your life if you are still not with Me, if you still do not possess that divine life of grace which alone renders your existence efficacious.
Others shall leave here with the intention to improve, removing all that can displease God and neighbor.
Children, I bless you and I entrust you as a precious inheritance to my Mother and yours. I am certain that She will know how to extract from you and from this night of prayer those spiritual benefits which will mark a point of departure for each one of you.
Children. I want you holy and apostles. She will take care of it, the Queen of the one and the other, to accomplish with the help of your community, that which is the will of God for each one.
I remain with you to confirm the prayer for you and the world. May it rise like the perfume of the incense to gladden Paradise."
 Carmela Negri Carabelli: Jesus Our Teacher
The thoughts, the reflections and the meditations in this booklet, were inspired by Our Lord Jesus to Carmela Negri Carabelli. They are, however, addressed to all those souls, who, desirous to love the Lord, seek to put into practice his teachings and to live the Christian life more perfectly. May Jesus bless these pages and those who read them with the desire to improve themselves, granting the help of his grace.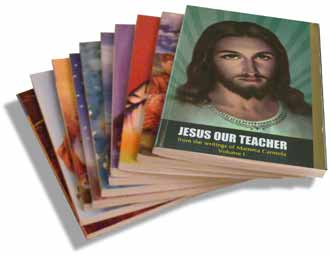 For more information about these magnificent teachings, for any spiritual assistance you may need or to participate and spread throughout the world the cenacles of prayer and the apostolate of the Divine Mercy, please contact:
"CENACOLO DELLA DIVINA MISERICORDIA",
Viale Lunigiana 30, 20125 Milano, Italy
01139-02-66-71-0625
email : cenadimi@gmail.com
www.cenacolodivinamisericordia.it
Nihil Obstat: Reverend Gerard Diamond MA (Oxon), LSS,
D. Theol, Diocesan Censor
Imprimatur: Rev. Monsignor Les Tomlinson, Vicar General
Date: 20th July 2007
The Nihil Obstat and Imprimatur are official declarations that a book or pamphlet is free of doctrinal or moral error. No implication is contained therein that those who have granted the Nihil Obstat and Imprimatur agree with the contents, opinions or statements expressed. They do not necessarily signify that the work is approved as a basic text for catechetical instruction.
Catholic Archdiocese of Melbourne