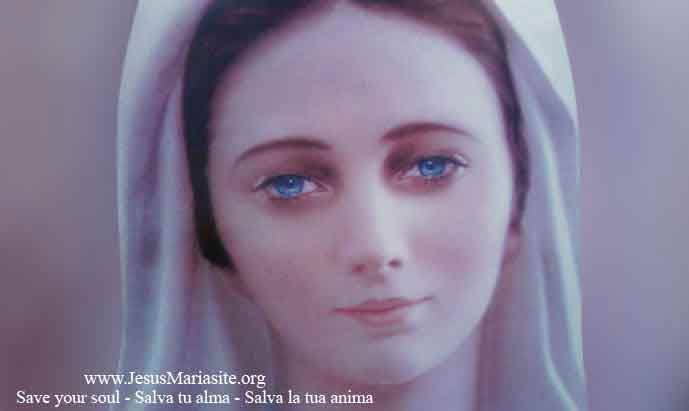 Be Saints
Maria says: (Maria Mother and Teacher, Vol. 1) " My dear children, be the welcomed ones: I am the Mother of Divine Grace. I bring to souls that desire it that powerful force, that brilliant light which in another word is called sanctity. I communicate it to you, this beneficent wave, but the fount of grace and sanctity is the mist sweet Heart of my divine Son.
That's why I invite you to approach him on this day so radiant. He'll instil love in you and the rush towards holiness, that holiness which being grace excludes sin, that holiness which being light leads to truth, that holiness which being life of love with God leads as a consequence to happiness, peace and joy.
My children, many times you have been called to be holy. My Jesus did it when He said to you: "Be holy as my Father who is in the heavens is holy (Mt 5:48)." I've asked it from you as a special gift of correspondence to my love made of so much tenderness. But in this moment it is the whole of Paradise that invites you to achieve that high stature which the saints have reached, by fighting your battle and living your life.
I only ask you for good will and a little love. All the rest comes as a consequence.
But do you wish that I not be beside you to make the interior life in you grow which is the best part of yourselves? Would I perhaps be a good mother if I were to neglect this duty of mine, when you mothers, even though so limited in your possibilities, you do so much for your children so that they may be healthy in body and so that they may progress and grow in intelligence and physical strength?
In this way, my children, I assist you and make your virtues grow. What concerns me most is that you must go along with me. Don't waste time on gossip and useless things; utilize the free time from your necessary relationships with your neighbor to stay on in a cordial conversation with me who is your Mother and who desires to embellish your souls, so as to render then a worthy lodging of the most sweet guest of souls, the Holy Spirit..
May the blessing of my Son give you, with the strength to react against the evil that surrounds you, so much love and sweetness, through which, by exercising the Christian virtues, you may be able to spread holiness in the world.
  The thoughts, the reflections and the meditations in this booklet, were inspired by Our Mother Maria, Mother of Jesus, to Carmela Negri Carabelli. They are, however, addressed to all those souls, who, desirous to love the Lord, seek to put into practice his teachings and to live the Christian life more perfectly. May Jesus bless these pages and those who read them with the desire to improve themselves, granting the help of his grace.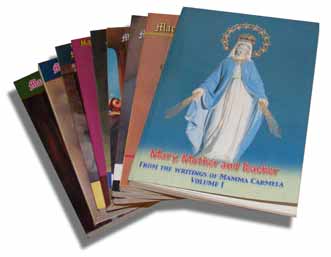 For more information about these magnificent teachings, for any spiritual assistance you may need or to participate and spread throughout the world the cenacles of prayer and the apostolate of the Divine Mercy, please contact:
"CENACOLO DELLA DIVINA MISERICORDIA", Viale Lunigiana 30, 20125 Milano, Italy Nihil Obstat: Reverend Gerard Diamond MA (Oxon), LSS, D. Theol, Diocesan Censor Imprimatur: Rev. Monsignor Les Tomlinson, Vicar General Date: 20th July 2007
The Nihil Obstat and Imprimatur are official declarations that a book or pamphlet is free of doctrinal or moral error. No implication is contained therein that those who have granted the Nihil Obstat and Imprimatur agree with the contents, opinions or statements expressed. They do not necessarily signify that the work is approved as a basic text for catechetical instruction.
Catholic Archdiocese of Melbourne