From the book dictated by the Angels to Marjorie Sampair:
The Trial Of America By God
Chapter 6: Prayer of Mary, Queen of Heaven
Michael, Archangel of God and of Mary Queen of Heaven:
Prayer of Mary, Mother of God, to Jesus:
"Merciful Heart of Jesus, the Sacred Heart that bleeds eternally for the sins of the world, this is the time of mercy. Not about the mercy to keep back Your Coming, but about the mercy to do surely the will of God on earth. Certainly, not for your salvation, but for the salvation of those who ask night and day peace on Earth and to your Regality to begin.

"Most Sacred Heart of Jesus, have mercy on them. The trial of the souls is complete. Many have fallen, but those who have triumphed, need Your Return to be introduced into their inheritance. You promised a rich reward for their loyalty.

In the Sermon on the Mount, you told to them about the reward for the perseverance on the way of the cross. They have persevered. They await Your Coming and the fruits of their labor.

"I, the Mother Who have begotten You in Her womb, beseech You for them now. They are my children, given from your lips to Me while you were hanging, dying for their sins. "BEHOLD YOUR MOTHER!" And I became the Mother of them all.

My true children who pray the Rosary every day that You granted me to give them. You know the power of their prayers because it belongs to You. You heard their cry toward Me like children who cry out to their mother, and I have placed their cry to your Holy feet with My Immaculate Heart, on their behalf.

My Holy Son, I, Your dear Mother and Queen of Heaven, I ask you to listen to their cry. Bring the garlands of roses, My prayers and My Immaculate Heart to Your Father in Heaven. It is He, Who has to give You the order to descend to save Your children and Mine. Almighty, He sits on His Throne, and You only, His divine Son, have the power to match His. Put your Bleeding Heart next to Mine and lay both at His feet. Implore His Word so that You can quickly bring justice to Earth.

You, His Son, have been the witness of the fall of the churches. You have seen the last remnant of the faithful children move away from that abomination of desolation. God, Your Father, is waiting for your question. Go to Him, My Son, and ask for His permission to put an end to the upheaval and to the danger that Your true followers find them in.

I, Mary, Your Mother, I ask this to You. I ask nothing but God's Will; I ASK THAT HIS WILL BE DONE ON EARTH. How can I protect them longer if you do not return to them? How can I save even one if You delay?

Sweet Jesus, I beg you as a Mother, like the only one who listened to your first cry on Earth, like the Mother who fed You, clothed You, taught You and comforted You when the visions of torture and death You were about to suffer, came to You.

I stood by You at the foot of the Cross. I cried tears that did not flow out of My eyes but out of My Heart. For the seven swords of sorrow that pierced my soul, I ask mercy for My Children."
The prayers of the Mother of Christ have been brought to Him by the Angels. He hears them. He weeps. He will call on His Father and to His Father's command, He will come soon to bring justice to you, the children of Mary."
Michael, Archangel of God and of Mary, Queen of the Angels
From the book dictated by the Angels to Marjorie Sampair:
The Trial Of America By God
The book, "The Trial of America By God", is a story of faith. It is the faith of a humble woman who let a force, she knew little about, take over her hand and guide her pen. And it takes the faith of the reader to accept these words for what they are, messages from Heaven. In 1968, Marjorie Sampair was living in a modest home in Tacoma, Washington. "She was an average woman who was busy with the affairs of her family, before she was called on by God to write a book." You can find the story in the beginning of the book. For now, we would just like to give a brief explanation of how it was written. This book was written as many of the books in the Bible were written, through a form of writing known as automatic writing. The pen is held lightly in the hand and begins to move seemingly of its own power. In Numbers 36:13 we read, "These are the commandments and judgments, which the Lord commanded by the hand of Moses to the children of Israel." There are many other examples given in the Bible. A list of examples of how God wrote through the hand is available. While we do not wish to suggest that all automatic writing is from God, by your faith you will have to decide as to the authenticity of this book. Why was this book written? That question is best answered by Heaven. So read the excerpts given here, and pray to the Queen of Heaven for the gift of Faith. She will take your request to Christ, Her son.
Urgent call of Jesus the Eternal High Priest
August 9th 2020 from 12:00 am to 6:00 pm - Worldwide day of fasting and of prayer to the Heavenly Father for the protection of Catholic Temples, Shrines and Holy Places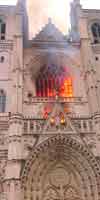 "I make an urgent call to the whole Catholic world for a day of fasting and of prayer to be held worldwide on August 9th with the prayer of the Rosary of my Most Precious Blood and with the prayer of the Exorcism of St. Michael, from 12:00 am to 6:00 pm, asking the Heavenly Father for the protection of my Temples, Shrines and Holy Places, which are being destroyed and desecrated by the forces of evil of this world. I'm counting on you, my Flock." —Jesus the Eternal High Priest
The truth about the Coronavirus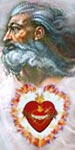 May 1, 2020 - God the Father says: "Today, I invite you to realize that this virus - the coronavirus - is no ordinary disease. It has been created from human ingenuity to specifically target the elderly and physically challenged. This is the plan of future generations to purify the human race around the world. It was released into the general population ahead of schedule - by accident. Those in charge were waiting for less capable government officials in your country (USA) to be in office. Nevertheless, proposed harm is being unleashed on the whole human race."
"I tell you these things to help you to realize the underlying evil at work and hidden in hearts these days. You cannot be confounded by any turn of events. Over all situations, I am in Dominion. No one will be given power over you that is more powerful than your Eternal Father. Therefore, be emboldened with this knowledge. If you persevere in Truth, you have loaded your weapons against what seems to be and discharged them with Truth." (Source: Holy Love)
Help the Lord spread His voice, time is running out
Please help spread these messages of faith, hope, salvation,
defense
against evil (by email, printing, Facebook, Twitter, and other media) to your loved ones, your friends, and all the people you may meet, who seek salvation or who are in danger of being eternally lost. The Lord gives great graces and blessings to those of goodwill who, according to their own possibilities, collaborate with His Plan of Salvation.
Who helps the Lord save a soul predestine his own
, independently from the outcome.