From the book dictated by the Angels to Marjorie Sampair:  
The Trial Of America By God
INTRODUCTION
Gabriele, Archangel of God and of Mary Queen of Angels:
"The coming of Jesus in glory and Majesty will start the Era of peace that all men fervently wish for. For this purpose, Jesus died and rose again.
For this reason He ascended into Heaven. For this reason he took upon Him your faults and washed away all your sins with His blood. For this reason he gave His Mother as the mother of all men.
If he ascended, He is sure to return. If He is the true Son of God, His Word is true, if He would not come back in this generation, then all would be lost. In fact, without the coming of Christ to bring peace on Earth, certainly many men would die by the work of their own hands. Hands that have the key of self-destruction.
Everything will then be lost and a deep despair will settle over the whole world. The black smoke will bring death and men will not live any longer as children of God.
This total darkness of the spirit will soon become the latest punishment of men; When the tribulation will come and all hope will fade away, then fear and terror will grab the heart of every man on earth, BECAUSE THE ANTICHRIST WILL RULE AND ALL THE DEMONS OF HELL WILL RULE WITH HIM.
From the mouths of men blasphemies and obscenities will come out; the actions of men will be far worse than those of the demons, because when man falls into the abyss of despair, nothing can soften his own heart and madness will mess up his mind. Without Christ there is no light.
When the light will flicker, what will happen? From the race of man a race of monsters are brought forth.
Jesus came as a poor little child, in a stable. But even then the light shone in the darkness of that time. He brought with Him a message for all the generations, but His most important message was for these times.
He who has ears to hear, let him hear Him.
CHRIST MADE A PROMISE: WHEN THE ANTICHRIST WILL BEGIN HIS REIGN, THE SON OF MAN WILL APPEAR COMING OUT OF A CLOUD AND WITH HIM ALL THE HOSTS OF ANGELS TO FIGHT AGAINST EVIL SPIRITS. AND AS IT IS SURE THAT THE ANTICHRIST IS TO COME, SO CHRIST-KING WILL COME TO TAKE HIM DOWN.
Lift up your heads and rejoice, because when these things begin to take place, THEN, just so you know, THE SECOND COMING OF CHRIST WILL BE AT HAND, RIGHT ON THE DOORSTEP.
This book is written by the Archangels by the will of the Mother of God.
It has been written using the pen held by Marjorie Sampair, a poor servant of Mary, Queen of Heaven and Earth.
Her modest family has gone through poverty and humility, losing the esteem of many relatives and friends, ridiculed and without means to prove the truth of what has been written. Now, while they work, there is peace in their hearts, because they believe the words and they will continue to do so until the end of their days, even if they don't know where the book is going to take them. Jesus asked a faith as big as "as a grain of mustard», and with no doubt this faith is in the hearts of Marjorie and Charles Sampair and of their three children. The little Patricia speaks for everyone when solemnly reveals: "are we poor? We are not! We are rich in our Mother Mary."
They are rich of an incalculable wealth, because it is the Blessed Virgin Who keeps their faith alive. She infuse hope, while human events fill them with fear and discouragement.
BECAUSE HER SON WILL COME A SECOND TIME, BECAUSE THERE WILL BE PEACE, BECAUSE THEY WILL BE TAKEN TO A SAFE PLACE WHEN THE TRIBULATION WILL COME.
A SAFE PLACE … Where is a safe place in a world gone mad?
MARY, MOTHER OF GOD, HAS PROMISED IT TO ALL THAT ARE HER TRUE CHILDREN WHO WEAR THE BROWN SCAPULAR AND PRAY THE ROSARY. WE WE WILL ESCAPE THE TRIBULATION, THE TERROR AND THE DESPAIR WITH OUR BLESSED MOTHER WHO WILL GUIDE US.
You who love and give honor to the Holy Mother of God, continue to pray. Pray more and more devotedly of your past days, because every day that passes, the TIME OF PEACE Approaches. The heavy duty of prayer will become heavier, but AT THE END YOU WILL SEE THE FACE OF CHRIST WHO WILL COME TO SAVE YOU, TO BRING ORDER OUT OF THE CHAOS, PEACE WHERE BEFORE THERE WAS WAR AND LOVE AS VICTORY OVER HATRED.
Hold on to your faith, because great is the danger.
Bring your rosaries with you at all times, praying in any available moment. Not all is lost for those of you that love God, worship the Son of God and honor the Mother of God. Many will perish in these last few days, but no son of Mary will be lost.
You are about to start reading the book in this light. It is a book of joy and hope. It does not intend to frighten you but to help you.
MARIA IS YOUR HOPE. MARIA IS YOUR GUIDE. MARIA IS YOUR PASSPORT TO THE NEW EARTH THAT WILL RISE FROM THE ASHES OF THE OLD ONE.
Will you follow Her to the SAFE PLACE?
Then you must read this book, because the map is here if only you can see it. "
Gabriele, Archangel of God and of Mary, Queen of the Angels
(From the book dictated by the Angels to Marjorie Sampair:  The Trial Of America By God)
The book, "The Trial of America By God", is a story of faith. It is the faith of a humble woman who let a force, she knew little about, take over her hand and guide her pen. And it takes the faith of the reader to accept these words for what they are, messages from Heaven. In 1968, Marjorie Sampair was living in a modest home in Tacoma, Washington. "She was an average woman who was busy with the affairs of her family, before she was called on by God to write a book." You can find the story in the beginning of the book. For now, we would just like to give a brief explanation of how it was written. This book was written as many of the books in the Bible were written,  through a form of writing known as automatic writing. The pen is held lightly in the hand and begins to move seemingly of its own power. In Numbers 36:13 we read, "These are the commandments and judgements, which the Lord commanded by the hand of Moses to the children of Israel." There are many other examples given in the Bible. A list of examples of how God wrote through the hand is available. While we do not wish to suggest that all automatic writing is from God, by your faith you will have to decide as to the authenticity of this book. Why was this book written? That question is best answered by Heaven. So read the excerpts given here, and pray to the Queen of Heaven for the gift of Faith. She will take your request to Christ, Her son.
The truth about the Coronavirus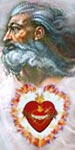 May 1, 2020 - God the Father says: "Today, I invite you to realize that this virus - the coronavirus - is no ordinary disease. It has been created from human ingenuity to specifically target the elderly and physically challenged. This is the plan of future generations to purify the human race around the world. It was released into the general population ahead of schedule - by accident. Those in charge were waiting for less capable government officials in your country (USA) to be in office. Nevertheless, proposed harm is being unleashed on the whole human race."
"I tell you these things to help you to realize the underlying evil at work and hidden in hearts these days. You cannot be confounded by any turn of events. Over all situations, I am in Dominion. No one will be given power over you that is more powerful than your Eternal Father. Therefore, be emboldened with this knowledge. If you persevere in Truth, you have loaded your weapons against what seems to be and discharged them with Truth." (Source: Holy Love)
Help the Lord spread His voice, time is running out
Please help spread these messages of faith, hope, salvation,
defense
against evil (by email, printing, Facebook, Twitter, and other media) to your loved ones, your friends, and all the people you may meet, who seek salvation or who are in danger of being eternally lost. The Lord gives great graces and blessings to those of goodwill who, according to their own possibilities, collaborate with His Plan of Salvation.
Who helps the Lord save a soul predestine his own
, independently from the outcome.