The Trial Of America By God
Chapter 27
Final Countdown
Gabriel, Archangel of God and of Mary Queen of the Angels:
"THE SECOND COMING OF CHRIST IS IMMINENT.
Before He comes, the choice will be made by man. Either the prayer or God will send fiery clouds of fire.
EITHER MARY OR SATAN. EITHER A LONG ERA OF PEACE THAT WILL LEAD TO THE NEW EARTH, OR THE GREAT TRIBULATION (THE ANTICHRIST AND DESTRUCTION).
The two roads are still in front of you. Every day this choice must be made. Therefore, long hours of fervent prayer are necessary.
A CRY, SO THAT THERE BE PEACE, LOVE AND GOD.
Millions of people pray in unison. May it be such a strong cry, a so pressing one, so full of love for Christ, to induce God not to turn His back. This cry must rise from every nation as a smoke, especially from America.
The other road is easier to take. Rest and enjoy the comforts of life. Continue your work to get more and more money and idleness. Let the worries of this world be in your mind and do not think of God if not for an hour on Sunday. Strengthen the thought that everything will be fine. Let your life be focused on the present and do not look at the signs of the end of time. Maybe it is not true… Perhaps a new era of peace will arise from the existing Chaos of the present time and Christ will postpone His Coming…
It is easier to let yourself be carried by the mass than to go against the flow.
Do not allow Satan's deception to restrain you from seeing the truth. The road of the lesser resistance takes you into the depths of hell.
Taking the second road means inviting death and wanting disaster.
Taking the first road is to emerge from this miserable life in the perfection of God.
Count the days. Count them backwards as you do for missile launch. You do not even know where to start. Maybe from ten, maybe from eight, maybe from four, or two, or one. However, one thing is certain: the zero will be counted.
GOD HAS STARTED THE COUNTDOWN OF THE END OF TIME.
Every time you hear His voice in Heaven, another event on Earth is being accomplished. And when everything is ready, the burst will be heard from one end to the other of the Heavens.
The wicked will act as fuel that is going to be on and consumed. The Blessed ones of God are in the missile waiting. When the Great Day arrives, the destination of the Blessed ones will be known.
THIS DESTINATION IS A PLACE OF GLORY, OF LIFE AND OF UNIMAGINABLE THINGS.
These little parables have not been as hastened as they may seem. Let the truth be known to you.
Every day the world gets near the day of the RETURN OF MAN TO PARADISE.
To accomplish this, all the wicked must be eliminated with Satan, his demons, the men who love him and follow him in his many disguises.
All Satan's masks will be removed. Money, power, pride, envy, lust, the symbols of social condition (cars, new houses, expensive furnishings, etc.) All that covers of Satan's face. He will be seen for what he is. Those who have been deceived will weep for their lost souls.
Abandon all the ways of Satan before Christ arrives or it will be too late. When the great seducer is going to be exposed and he is going to be before God, you will confront his ugliness with the beauty of Christ and you will want strongly what you cannot have.
How beautiful are the ways of Christ: love, humility, kindness, sweetness, meekness, truth, honor and dignity. What peace fills the heart of a true Christian! It cannot be found in any other heart except in a heart where Christ dwells.
How sweet are the ways of Mary, the beautiful Mother of Jesus: service, patience, love, the benevolent hospitality, virtue, living always at the feet of Christ.
Mary, Her Mother, implores Him for Her children.
SHE SEES THIS AWFUL DAY APPROACHING AND SHE WANTS TO WARN YOU.
This time Her instrument is the pen, because all the other ones have failed. Her apparitions on Earth, Her pressing messages through those She favors, Her petitions about prayer, reparation and penance.
ALL HAS FAILED. SHE HAS PREDICTED THE EVENTS, BUT WHEN THEY HAPPEN MEN DEFINE THEM AS "NATURAL".
She has accomplished great and small miracles but a skeptical generation does not believe in miracles.
For this reason, She wrote this book. Will men believe it? Only time will show the results of Her last attempt to warn a generation of incredulous.
Her writing is almost finished. In few pages, everything will be told. There is no more than it could help men seek a way out of a crazed world. When the last work is going to be written, the pen will remain silent, the hand will no longer move and the words of hope will fade.
The Mother of God will no longer speak. SHE WILL EXPECT PRAYERS, beautiful garlands of roses. And She will pray for those who will ask for it.
SHE WILL NOT BE ABLE TO HOLD HER SON'S ARM FOR LONG.
THE LAST MOMENTS WILL COME AND GO, AND IT WILL BE WHAT IT IS.
Don't cry anymore, dear Mother. Do not pour out silent tears any longer.
YOUR SON WILL VERY SOON END THE FIGHT, THE WAR AND THE WICKEDNESS."
Gabriel, Archangel of God and of Mary Queen of Angels
From the book dictated by the Angels to Marjorie Sampair:
The Trial Of America By God
The book, "The Trial of America By God", is a story of faith. It is the faith of a humble woman who let a force, she knew little about, take over her hand and guide her pen. And it takes the faith of the reader to accept these words for what they are, messages from Heaven. In 1968, Marjorie Sampair was living in a modest home in Tacoma, Washington. "She was an average woman who was busy with the affairs of her family, before she was called on by God to write a book." You can find the story in the beginning of the book. For now, we would just like to give a brief explanation of how it was written. This book was written as many of the books in the Bible were written, through a form of writing known as automatic writing. The pen is held lightly in the hand and begins to move seemingly of its own power. In Numbers 36:13 we read, "These are the commandments and judgments, which the Lord commanded by the hand of Moses to the children of Israel." There are many other examples given in the Bible. A list of examples of how God wrote through the hand is available. While we do not wish to suggest that all automatic writing is from God, by your faith you will have to decide as to the authenticity of this book. Why was this book written? That question is best answered by Heaven. So read the excerpts given here, and pray to the Queen of Heaven for the gift of Faith. She will take your request to Christ, Her son.
Urgent call of Jesus the Eternal High Priest
August 9th 2020 from 12:00 am to 6:00 pm - Worldwide day of fasting and of prayer to the Heavenly Father for the protection of Catholic Temples, Shrines and Holy Places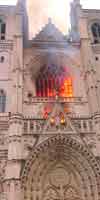 "I make an urgent call to the whole Catholic world for a day of fasting and of prayer to be held worldwide on August 9th with the prayer of the Rosary of my Most Precious Blood and with the prayer of the Exorcism of St. Michael, from 12:00 am to 6:00 pm, asking the Heavenly Father for the protection of my Temples, Shrines and Holy Places, which are being destroyed and desecrated by the forces of evil of this world. I'm counting on you, my Flock." —Jesus the Eternal High Priest
The truth about the Coronavirus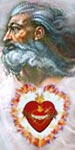 May 1, 2020 - God the Father says: "Today, I invite you to realize that this virus - the coronavirus - is no ordinary disease. It has been created from human ingenuity to specifically target the elderly and physically challenged. This is the plan of future generations to purify the human race around the world. It was released into the general population ahead of schedule - by accident. Those in charge were waiting for less capable government officials in your country (USA) to be in office. Nevertheless, proposed harm is being unleashed on the whole human race."
"I tell you these things to help you to realize the underlying evil at work and hidden in hearts these days. You cannot be confounded by any turn of events. Over all situations, I am in Dominion. No one will be given power over you that is more powerful than your Eternal Father. Therefore, be emboldened with this knowledge. If you persevere in Truth, you have loaded your weapons against what seems to be and discharged them with Truth." (Source: Holy Love)
Help the Lord spread His voice, time is running out
Please help spread these messages of faith, hope, salvation,
defense
against evil (by email, printing, Facebook, Twitter, and other media) to your loved ones, your friends, and all the people you may meet, who seek salvation or who are in danger of being eternally lost. The Lord gives great graces and blessings to those of goodwill who, according to their own possibilities, collaborate with His Plan of Salvation.
Who helps the Lord save a soul predestine his own
, independently from the outcome.