The Trial Of America By God
Chapter 26
Celestial Arithmetic
Mary, Mother of God.
"Who will listen to the voice of Christ who says: «Come to Me and I will give you freely the water of life?"
Listen to Him! He is speaking today with the words of the Bible and His voice can only be heard in your heart and in your mind. I know My Son's way.
I have seen the place He has prepared for you after His death, resurrection and ascension. I know the Holy Spirit who drives the power of the universe, and who once guided the minds of men before sinning against Him.
I HAVE SEEN THE FACE OF GOD. I know the contact of this shining face.
I see My Son, a reflection of the power of God, and I KNOW THAT HE IS PREPARING SINCE NOW TO RETURN TO EARTH TO END SIN, FIGHTING AND HATRED. HE WILL DELIVER YOU FROM THE EVIL OF SATAN AND FROM TEMPTATION.
Have you not prayed so countless times: "lead us not into temptation, but deliver us from evil"?
How blind the eyes of the men are who have received the perfect prayer of Christ and have not known the meaning!
"OUR FATHER, WHO ART IN HEAVEN, HALLOWED BE THY NAME! THY KINGDOM COME (the New Earth)!
THY WILL BE DONE ON EARTH AS IT IS IN HEAVEN (the change of Earth is the new position).
GIVE US THIS DAY OUR DAILY BREAD (the Bread of heaven, the Body of Christ) AND FORGIVE OUR DEBTS(1) AS WE FORGIVE OUR DEBTORS(1) (give us justice and judgment as we pardon others, but we, ourselves, do not forgive).
AND LEAD US NOT INTO TEMPTATION (of Satan), BUT DELIVER US FROM EVIL (destroy satan and all his followers). Amen".
Christ gave men the cry that God desires to hear from His faithful children.
A CRY TO INVOKE THE SECOND COMING OF CHRIST.
A CRY THAT PREPARES THE JUDGMENT AND THE NEW EARTH.
A CRY THAT WISHES THE DESTRUCTION OF SATAN AND THE END OF EVIL.
This prayer, of the Lord, is part of the Rosary. It is such a great part that its weight is counterbalanced by ten Hail Marys, the most beautiful and powerful prayers addressed to Mary, which must be added to achieve the balance THAT WILL BRING PEACE TO THE EARTH WITH THE SECOND COMING OF CHRIST.
This is the celestial arithmetic that gives man the power over his most daring dreams. It is the response to the atom, to space travel, to the relationship of man with God.
If you use this arithmetic, with its fullest measure of the full concentration of your divine mind, you will soon know all the answers of the universe… God! "
Mary, Mother of God.
Gabriel, Archangel of God and Mary Queen of the Angels:
"Man remains at the crossroads of the two paths. One leads to the New Earth and to Peace. It can be traveled with the Rosary in your hands. But few choose it. Mary, the Immaculate Queen, will guide you all on the path to heaven. THE OTHER ONE LEADS TO TOTAL DESTRUCTION AND TO HELL. "
(1) "Trespasses" and "trespass" are incorrect translations from Latin and they limit the power of the prayer Jesus gave us, in obtaining God's forgiveness for our debts accrued by our sins (even though they are forgiven by the Sacrament of Confession) to be expiated in our lifetime through penance and good deeds (do not forget: there are consequences of sins on our shoulders, not fully expiated before the Divine Justice by our relatives of previous generations, that affect negatively our lives). The Latin version of "Our Father" says "debita nostra = our debts" and "debitoribus nostris = our debtors".
Pater Noster
Pater noster qui es in coelis, sanctificetur nomen tuum; adveniat regnum tuum, fiat voluntas tua, sicut in coelo et in terra. Panem nostrum quotidianum da nobis hodie, et dimitte nobis debita nostra, sicut et nos dimittimus debitoribus nostris. et ne nos inducas in tentationem sed libera nos a malo. Amen
Our Father
Our Father, who art in heaven, hallowed be thy name; thy kingdom come, thy will be done, on earth as it is in heaven. Give us this day, our daily bread, and forgive us our trespasses as we forgive those who trespass against us. And lead us not into temptation, but deliver us from evil. Amen
From the book dictated by the Angels to Marjorie Sampair:
The Trial Of America By God
The book, "The Trial of America By God", is a story of faith. It is the faith of a humble woman who let a force, she knew little about, take over her hand and guide her pen. And it takes the faith of the reader to accept these words for what they are, messages from Heaven. In 1968, Marjorie Sampair was living in a modest home in Tacoma, Washington. "She was an average woman who was busy with the affairs of her family, before she was called on by God to write a book." You can find the story in the beginning of the book. For now, we would just like to give a brief explanation of how it was written. This book was written as many of the books in the Bible were written, through a form of writing known as automatic writing. The pen is held lightly in the hand and begins to move seemingly of its own power. In Numbers 36:13 we read, "These are the commandments and judgments, which the Lord commanded by the hand of Moses to the children of Israel." There are many other examples given in the Bible. A list of examples of how God wrote through the hand is available. While we do not wish to suggest that all automatic writing is from God, by your faith you will have to decide as to the authenticity of this book. Why was this book written? That question is best answered by Heaven. So read the excerpts given here, and pray to the Queen of Heaven for the gift of Faith. She will take your request to Christ, Her son.
The truth about the Coronavirus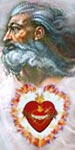 May 1, 2020 - God the Father says: "Today, I invite you to realize that this virus - the coronavirus - is no ordinary disease. It has been created from human ingenuity to specifically target the elderly and physically challenged. This is the plan of future generations to purify the human race around the world. It was released into the general population ahead of schedule - by accident. Those in charge were waiting for less capable government officials in your country (USA) to be in office. Nevertheless, proposed harm is being unleashed on the whole human race."
"I tell you these things to help you to realize the underlying evil at work and hidden in hearts these days. You cannot be confounded by any turn of events. Over all situations, I am in Dominion. No one will be given power over you that is more powerful than your Eternal Father. Therefore, be emboldened with this knowledge. If you persevere in Truth, you have loaded your weapons against what seems to be and discharged them with Truth." (Source: Holy Love)
Help the Lord spread His voice, time is running out
Please help spread these messages of faith, hope, salvation,
defense
against evil (by email, printing, Facebook, Twitter, and other media) to your loved ones, your friends, and all the people you may meet, who seek salvation or who are in danger of being eternally lost. The Lord gives great graces and blessings to those of goodwill who, according to their own possibilities, collaborate with His Plan of Salvation.
Who helps the Lord save a soul predestine his own
, independently from the outcome.