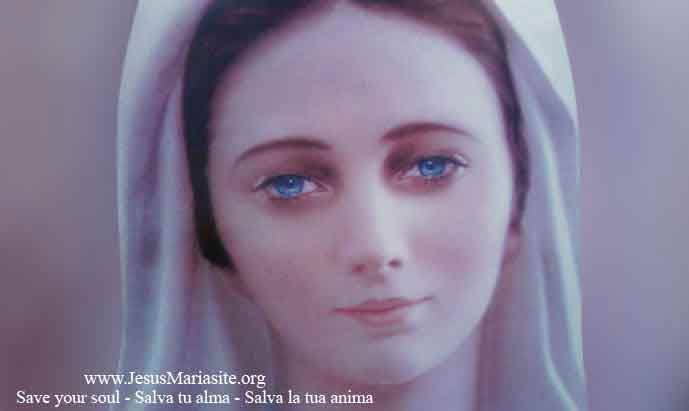 Always Aspire to Heaven
Maria says: (Maria Mother and Teacher, Vol. 1) "
My children, here I am to give you a little advise and a suggestion. When my Jesus came to greet me and to embrace me, to give me his blessing and to ask for mine before ascending to Heaven, He asked me if I desired to ascend with Him to the blessed fatherland, and in that moment the Father showed me Paradise and made me comprehend all its beauty. I chose to remain with the apostles. So I renounced the joy of being able to live with my Jesus, to see Him and to enjoy Him, in order to stay next to defective and incapable men, and to be able to give with my teachings that light and that maternal warmth which the nascent Church needed.
This is how, my children, mothers sanctify their lives in the offering of their sacrifices out of love for their children. Every mother – and when I say mother I mean to address also those .who, for whatever reason, have the capacity or mission to direct souls and be a guide to them – sanctifies her own existence in the total giving and renunciation of her tastes, and many times of her desires, in order to interpret those of God in the search for the good of her children.
This is how then, children, I go around through the world and I seek to guide to Heaven, to instruct and to help all. It is not by chance, therefore, that you come to pray to me here and not for nothing that you give me your tears. It is not by chance that I remained next to the nascent Church and that I still am now, since my task will not cease until one unique Church, the triumphant one, will be the Kingdom of Jesus and mine.
Now I beg you, do not disappoint me and just as, though living on earth, my aspiration was always for Heaven, so you also look up and in the lifting up of your thoughts and affections as of now on you will find joy and comfort, doing for the sake of God all that good that He desires from you.
Another thought I wish to suggest to you is this: do not forget in your prayers those who, flying through the immensities of the skies, forget what will be their final dwelling place and often lose their life without having for a single moment the thought of God.
You are made for Heaven and one day you will reach me, never forget it.
I bless you all."
The thoughts, the reflections and the meditations in this booklet, were inspired by Our Mother Maria, Mother of Jesus, to Carmela Negri Carabelli. They are, however, addressed to all those souls, who, desirous to love the Lord, seek to put into practice his teachings and to live the Christian life more perfectly. May Jesus bless these pages and those who read them with the desire to improve themselves, granting the help of his grace.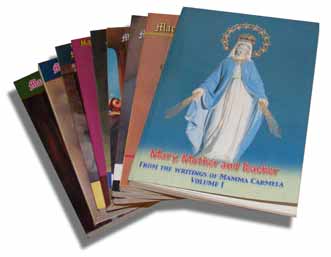 For more information about these magnificent teachings, for any spiritual assistance you may need or to participate and spread throughout the world the cenacles of prayer and the apostolate of the Divine Mercy, please contact:
"CENACOLO DELLA DIVINA MISERICORDIA",
Viale Lunigiana 30, 20125 Milano, Italy
Nihil Obstat: Reverend Gerard Diamond MA (Oxon), LSS,
D. Theol, Diocesan Censor
Imprimatur: Rev. Monsignor Les Tomlinson, Vicar General
Date: 20th July 2007
The Nihil Obstat and Imprimatur are official declarations that a book or pamphlet is free of doctrinal or moral error. No implication is contained therein that those who have granted the Nihil Obstat and Imprimatur agree with the contents, opinions or statements expressed. They do not necessarily signify that the work is approved as a basic text for catechetical instruction.
Catholic Archdiocese of Melbourne