Wednesday, February 15, 2017:
Jesus said: "My people, after the rain of the Great Flood was over, Noah sent out birds to see if the waters had subsided. Finally, a dove came back with an olive branch in its beak, which has become a peace symbol. When the dove did not return, he opened the hatch to see that the land was appearing again. I had to evaporate the water, and store water in your aquifers so the land could appear. Once Noah brought the animals out of the ark, there was a new renewal, or a recreation of the earth with its plants and animals. Noah and his family had to repopulate the earth, and they lived a long time. In the Gospel I healed the blind man and light came into his sight as a new creation as well. There are many people walking around in spiritual blindness because they fail to see My Light of faith in their hearts and souls. These people are the ones who need to be converted to help save their souls. This is why I am constantly calling on My faithful to pray for the conversion of sinners with your evangelization efforts. When I bring My Warning, the sinners will have one last chance to wake up and see My Light in faith. If they fail to repent and accept Me in love, then they will be on the path to hell."
Jesus said: "My people, Lent gives people thoughts about repenting about their sins, praying more, Confession, making some sacrifices, fasting, and almsgiving to charities. These are good ways to help improve your spiritual lives. You are constantly being challenged by the devil's temptations. This is why you need to build up your spiritual strength to combat your daily temptations from the devil.
Fasting can be a challenge for your diet, especially not eating between meals, and if you are giving up sweets and desserts. It is a challenge of your will power over your bodily cravings. If you really try, you can live without sweets, and you do not need food between meals. Coming to frequent Confession can also be a challenge to be truthful in telling your sins to a priest. You need to make a good preparation in order to make a good Confession.
During Lent you could also examine your budget to give some extra donations to your local food shelf, or to the poor through various organizations. Look at how much you spend on eating out, on entertainment, or on expensive items that are extras that you could do without. Just reallocating some spending would greatly help some charities that you could donate to in money or time.
By thinking out what you could do this Lent, you could even work on some of your bad habits. By disciplining your physical and spiritual desires, you could improve your lives and please Me too. Start thinking of these ideas now so you can start Lent with a plan that you could continue for forty days."
Tuesday, February 14, 2017:(St.Cyril & St.Methodius, St. Valentine)
Jesus said: "My people, Noah and his family were righteous people and obeyed My laws, so I had him build an ark for his family and the animals because I intended to kill the evil people with a flood. I spared Noah and his family from drowning, even while the evil people ridiculed them for building such a large ark in the desert. The rains came and flooded the earth, and the evil ones were killed. In some places you are seeing small floods, but I will not cover the earth again with a flood, and I left the rainbow in the sky as a sign of My covenant.
A time of tribulation of the evil Antichrist is coming, but his reign will be brief. This time I am having My refuge builders make safe havens for My faithful people. Your refuges will be like arks where My angels will protect you. After I bring My Comet of Chastisement upon the earth, all the evil people will be killed, and cast into hell. I will protect My people by raising them into the air so they are not killed by the Comet. Then I will renew the earth as it was in the beginning, and My people will be brought down to live in My Era of Peace for a long time."
Jesus said: "My people, your President is being attacked by your media, the opposition party, and the one world people, as the masons. It is the rich evil ones who are paying people to cause protests and riots. These evil ones are also paying off your Congress people to go against your President. Now, some of the Obama bureaucrats are leaking information to the 'fake news' press to harass your President's Cabinet, and even his family members. You have never seen such a reaction to a new President. If your people do not support your President, you could see his plans get stopped by your mason infested Congress. I told you before that opposition to change the old guard establishment will be very difficult. Your President may indeed have to use his Executive Orders to get any quick action done, because of the resistance in your Congress. Continue praying for your country's President and his protection. I will send My angels to help him, but your country needs to come back to Me in repentance of your sins."
Monday, February 13, 2017:
Jesus said: "My people, you are seeing in the first reading how Cain killed his brother Abel out of jealousy and pride. Cain did not offer up his best crops, so I was not pleased with his offering. Abel offered up his best sheep, and I was pleased with his offering. Cain did not like it that his younger brother had a better offering. It was pride that took over Cain's heart, and he was jealous of Abel's offering that I accepted over Cain's. Cain did not want this to continue, so he killed Abel out in the field. This was the first killing by anger, but you have seen constant killings in wars, over drugs, and in abortions.
Some people kill for money, revenge, or out of anger. In abortion some women are killing their babies out of convenience, or to cover up an embarrassing pregnancy. Again, it is out of greed, pride, or jealousy that motivates people to kill others. There is a great punishment for killing people, because you are robbing people from fulfilling My plan for them.
Even people, who are not punished here for their abortions, will suffer at their judgment. There needs to be a repenting of sin, if a person wants to be saved."
Jesus said: "My people, in California you had an extended drought, but now they are having heavy rains, and it has caused flooding. One of the main dams is overflowing, and it is dangerously close to causing a huge flood from a dam failure. The people are being evacuated as more heavy rains are forecast. You have seen floods and tornadoes in the South, and heavy snowstorms in the Northeast from the Great Lakes. These damaging storms continue to reflect the hate and protests against your current President. Instead of so many protests, your people should unite against your common enemies who are testing you with their missile tests as in Iran and North Korea. Pray for your leaders, and for America to return to your Christian morals and principles."
Source: John Leary
The truth about the Coronavirus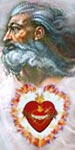 May 1, 2020 - God the Father says: "Today, I invite you to realize that this virus - the coronavirus - is no ordinary disease. It has been created from human ingenuity to specifically target the elderly and physically challenged. This is the plan of future generations to purify the human race around the world. It was released into the general population ahead of schedule - by accident. Those in charge were waiting for less capable government officials in your country (USA) to be in office. Nevertheless, proposed harm is being unleashed on the whole human race."
"I tell you these things to help you to realize the underlying evil at work and hidden in hearts these days. You cannot be confounded by any turn of events. Over all situations, I am in Dominion. No one will be given power over you that is more powerful than your Eternal Father. Therefore, be emboldened with this knowledge. If you persevere in Truth, you have loaded your weapons against what seems to be and discharged them with Truth." (Source: Holy Love)
Help the Lord spread His voice, time is running out
Please help spread these messages of faith, hope, salvation,
defense
against evil (by email, printing, Facebook, Twitter, and other media) to your loved ones, your friends, and all the people you may meet, who seek salvation or who are in danger of being eternally lost. The Lord gives great graces and blessings to those of goodwill who, according to their own possibilities, collaborate with His Plan of Salvation.
Who helps the Lord save a soul predestine his own
, independently from the outcome.