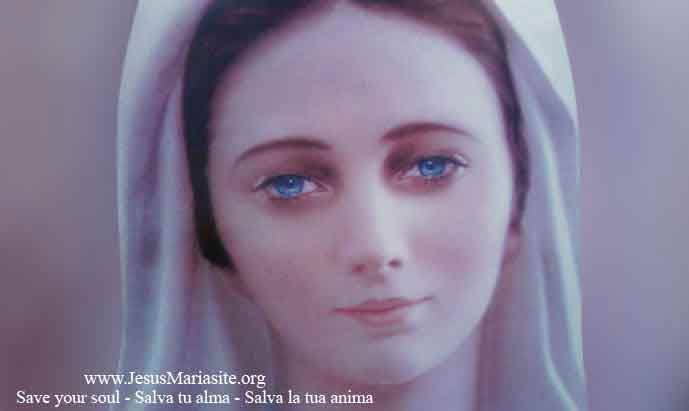 Abyss of Mercy
Maria says: (Maria Mother and Teacher, Vol. 1) " My beloved children, here I am to address to you my word full of goodness and tenderness.
I am the Virgin of the Abyss and so I present myself to you because I wish to set forward some teachings that may help you to know better and better your Jesus and yourselves, his greatness and your poverty; so that from this little analysis much joy, much love and much humility may spring forth.
An infinite abyss separates the greatness of God from the littleness of man. I act as an intermediary in this immensity so that, by giving my Son to the world, the abyss of greatness has drawn to itself the abyss of misery, the abyss of love has given itself to the abyss of sin in order to be able to erase it.
How is it explained that alongside an abyss of beauty, of wisdom, of goodness and mercy, man remains insensitive and does not want to understand?
I see many blind souls before the light of the sun, souls that do not want to believe in the love and do not want to believe in the mercy.
Children, why do you not want to believe that an infinite abyss of joy awaits you, an abyss of greatness without measure and without end?
Many deny and do not want to believe in the goodness of God, many deny and do not want to believe in his justice. And yet, children, woe to the reprobates, woe to those who hate, woe to those who abuse the graces of God!
I am here to help you to think, to believe, to act in a way that enables you, in spite of your sins, to let yourselves be drawn by that abyss of merciful goodness that is the heart of God, and so that, by immersing yourselves in it, you may have life.
You go about scrutinizing the movements of the waters, which go up and down, you study the power of the waves, capable of swallowing men and things, you explore the tops of mountains and you go deep into the terrestrial cavities to gather up the mysteries of nature: do you realize, children, that the whole world is a body of grandiose things, which you will never succeed in uncovering in detail and that everything is abandoned into the hands of God, who directs its outcome?
Blessed those men who learn, in the study of the sciences, to raise up their intellect to the heavenly things to thank the supreme Author of everything.
Blessed, children, be you who in the light of the divine things display your intelligence and your hearts, so that being illuminated and directed they may act with justice.
I help you, I point out the paths to you, I warn you, I invite you to dedicate yourselves to those works that avail for the eternal life.
This must concern you, since life here below is short, and an abyss of love through faith and the goodness of works await you, or an abyss of sorrow for a life of sin and evil.
Raise, I beg you, a prayer for all the shipwrecked of all days and of all times that are fed as a meal for the fish and for those who risk being swallowed by the evil one in passing from this life to the other, where in an abyss of sorrow they will remain forever, if your prayer will not contribute to distance them from evil and to save them.
My children, I bless you.
Spread love to my devotion, that it may help you to overcome all the difficulties. See me amongst you, especially in two moments of the day: when you gather for prayer and when you gather for recreation. I shall be there to bless you, instruct you, to comfort you and to correct you.
I desire that you invoke me in all your necessities, but especially when smiling becomes difficult for you. It will be your smile that will make you meet mine.
My daughters, I bless you.
Maria Mother and Teacher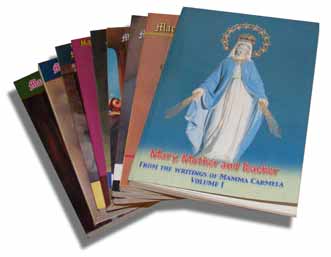 The thoughts, the reflections and the meditations in this booklet, were inspired by Our Mother Maria, Mother of Jesus, to Carmela Negri Carabelli. They are, however, addressed to all those souls, who, desirous to love the Lord, seek to put into practice his teachings and to live the Christian life more perfectly. May Jesus bless these pages and those who read them with the desire to improve themselves, granting the help of his grace.
For more information about these magnificent teachings, for any spiritual assistance you may need or to participate and spread throughout the world the cenacles of prayer and the apostolate of the Divine Mercy, please contact: "CENACOLO DELLA DIVINA MISERICORDIA", Viale Lunigiana 30, 20125 Milano, Italy –
www.cenacolodivinamisericordia.it
Nihil Obstat: Reverend Gerard Diamond MA (Oxon), LSS, D. Theol, Diocesan Censor Imprimatur: Rev. Monsignor Les Tomlinson, Vicar General, Date: 20th July 2007 – The Nihil Obstat and Imprimatur are official declarations that a book or pamphlet is free of doctrinal or moral error. No implication is contained therein that those who have granted the Nihil Obstat and Imprimatur agree with the contents, opinions or statements expressed. They do not necessarily signify that the work is approved as a basic text for catechetical instruction. Catholic Archdiocese of Melbourne
The truth about the Coronavirus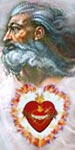 May 1, 2020 - God the Father says: "Today, I invite you to realize that this virus - the coronavirus - is no ordinary disease. It has been created from human ingenuity to specifically target the elderly and physically challenged. This is the plan of future generations to purify the human race around the world. It was released into the general population ahead of schedule - by accident. Those in charge were waiting for less capable government officials in your country (USA) to be in office. Nevertheless, proposed harm is being unleashed on the whole human race."
"I tell you these things to help you to realize the underlying evil at work and hidden in hearts these days. You cannot be confounded by any turn of events. Over all situations, I am in Dominion. No one will be given power over you that is more powerful than your Eternal Father. Therefore, be emboldened with this knowledge. If you persevere in Truth, you have loaded your weapons against what seems to be and discharged them with Truth." (Source: Holy Love)
Help the Lord spread His voice, time is running out
Please help spread these messages of faith, hope, salvation,
defense
against evil (by email, printing, Facebook, Twitter, and other media) to your loved ones, your friends, and all the people you may meet, who seek salvation or who are in danger of being eternally lost. The Lord gives great graces and blessings to those of goodwill who, according to their own possibilities, collaborate with His Plan of Salvation.
Who helps the Lord save a soul predestine his own
, independently from the outcome.