January 2, 2018
St Rosalie's Parish, Eucharistic Chapel, Hampton Bays, New York
Jesus the Redeemer
"My son,
I come to you today as Jesus the Redeemer of the world because, in these end times, many who claim to speak for me will deny My Presence among you.
Who is the liar? He who denies my existence; he who denies my return to lead humanity to redemption; he who denies My Presence in the Sacrament of the Holy Eucharist; and he who, therefore, ultimately denies that I am the Son of the Father in Heaven, who has chosen His Son to redeem humanity.
How shall you recognize the truth among so many who speak in my name during these end times? Know this: that there are many among you who speak on behalf of me, so they say, but they do not speak for me. There are many among you, be they prophet, priest or pope, or person, who do not know me and do not speak for me.
Therefore recognize that those who claim to speak for me, but only speak of me, can be recognized for their falsehood and failings, for they speak for the evil one, for the antichrist, and perhaps are themselves the antichrist of the end times, for the serpent, the snake that the antichrist is; he is the end times serpent that has many heads.
Recognize now that I have returned to mankind in the end times in Spirit, not as I came incarnate over 2000 years ago. I am just as powerfully among you today as I was then, and there will come a time very shortly when those who have doubted my role will be forced to face their Maker, the Father in Heaven, and to beg forgiveness for their transgressions against the Father in Heaven and His Son the Redeemer.
For those among you who persist as doubters, following the great warning, there will be no hope for salvation; for salvation will only come through the Father in Heaven who has blessed His Son the Redeemer to save all of humanity.
Recognize now that I have gifted humanity as Jesus of Nazareth with the Sacrament of the Holy Eucharist which to this day and until the very end of the end times is your most precious link with your Redeemer.
Again I say unto you, any prophet, priest or pope, or person who does not recognize My Presence in the Sacrament of the Holy Eucharist may speak of me but does not speak for me.
And those who deny My Presence in the Holy Eucharist be he prophet, priest or pope, or person, shall be speaking for the antichrist. For the evil in the denial of the Real Presence in the Holy Eucharist is the denial of My Role as the Redeemer of Humanity.
So the antichrist, the serpent who has many heads in the end times, this antichrist is any person among you, who denies My Real Presence in the Holy Eucharist.
So knowing this now, all of you who call yourselves Prayer Warriors on behalf of My Role as Redeemer of humanity must recognize that the gift of the Real Presence of My Body and Blood in the Holy Eucharist is the gift that you must treasure and embrace as your regular spiritual practice to partake in this sacrament.
Especially blessed are those among you who partake in the Holy Eucharist not just regularly but daily as part of your prayer life, for you are the true followers of the Father in Heaven, and through His Son, you will be especially blessed in your place of eternal life in the Heavenly Realms.
A warning to those of you who claim to speak for the Father in Heaven through His Son, the Lord and Saviour, who deny the gift of the Holy Eucharist. You may speak of me, but you do not speak for me when you do not recognize my gift to humanity in these words: 'Do this in remembrance of me'!
All of my brothers and sisters here on earth must recognize now that you are deep within the end times when events will happen much to the disappointment of the Father in Heaven, of His son the Redeemer, of your Heavenly Mother, and of all the Angels and Saints, but know that you are protected by all in the Heavenly Realms from the worst of the events that are yet to come, because of your faith in Me and because you partake in daily prayers that include the reception of my gift to you in the Holy Eucharist.
Remember, my brothers and sisters, you have been told through the ages: 'Do this in remembrance of me', and your eternal life will be secured in the highest reaches of the Heavenly Realms.
Thanks be to the Father in Heaven and His Son, the Redeemer of the world!"
Ned Dougherty's Near-Death Experience and His Visions of the Future
In his mid-thirties, Ned Dougherty (an Irish name, pronounced "Dock-erty") had everything: money, women, property, prestige, and power. He was a real estate broker for twenty-six years owning popular nightclubs in Palm Beach, Florida, and the Hampton's, Long Island's exclusive playground for the rich and famous. He lived in the fast lane every hour of the day, pursuing every pleasure money could buy. Despite his religious upbringing as a Roman Catholic, he had no interest in a spiritual life because he didn't believe in an afterlife.
He was too busy searching for a good time to be bothered with such things. This all changed on July 2, 1984 when he had a near-death experience (NDE) resulting from a heart attack after a heated – almost murderous – fist fight with a business associate.
Dougherty's NDE caused him to undergo a radical life transformation in which he gave up his nightclub business and party lifestyle and embraced his hitherto neglected Catholic religion. His NDE gave him a conscious awareness of his mission in life which was to embark upon charitable and missionary work. During his NDE, a wonderful "Lady of Light" (whom he identified as the Virgin Mary) revealed to him future global catastrophes many of which have already occurred which you will read in this article.
Today, Dougherty is a featured speaker, a former director and media spokesperson for the International Association for Near-Death Studies (www.iands.org). He also founded a spiritual center as revealed in his NDE called the Mission of Angels Foundation (www.fastlanetoheaven.com) through which he speaks on life-after-death issues, NDEs, Marian apparitions, and other spiritual matters.
He also hosts End Times Daily (www.endtimesdaily.com) – a Catholic news site focusing on eschatology – where he publishes interior locutions he has been receiving on a monthly basis since 2005.
Book: Fast Lane to Heaven: Celestial Encounters that Changed My Life
Published in March of 2001. This book documents his amazing NDE and visions of Earth's future.
Ned Dougherty's End of Days Website:
Fr. Michel Rodrigue explaines The Events of the End Times
Do you want a quick overview of the end times? Then read "The great events of purification will begin this fall". If you want all the details of the unfolding events, then go to "Virtual Spiritual Retreat with Fr. Michel Rodrigue about the End Times".
The Pope's approval of homosexuality
Beware of the 'New World Order'
The Rosary is the weapon of these times
The truth about the Coronavirus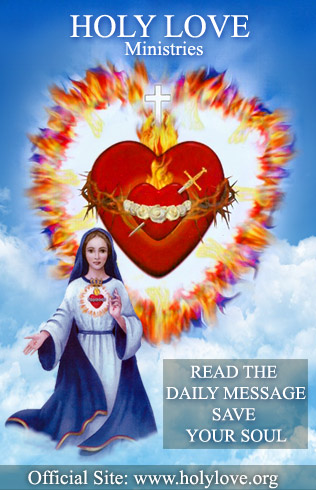 Read the daily messages
Catholics, we have entered the Pre-Tribulation, observe the Commandments, go to Confession; receive the Holy Eucharist; pray at least 3 Rosaries a day to keep your faith and save your loved ones. Prepare for the events that will devastate our planet: plagues, famine, WW3, cataclysms, antichrist's World Order