A shadow of evil is coming over your cities
(Please read all from begin to end)
Monday, April 23, 2018:

Jesus said: "My people, you are seeing the fulfillment of My justice on America with this disaster of the airplanes that terrorists flew into the Twin Towers in New York City. This is the culmination of the harbingers that was written by Jonathan Cahn. Your President George Washington consecrated America to Me in his first inaugural address in front of Congress at the St. Paul Church at ground zero. The punishment came on this same place. There is a quotation for this time in Isaiah 9:9,10: 'The bricks have fallen, but we will rebuild with cut stone; the sycamores have been felled, but we will replace them with cedars.' After your punishment in 9-11-01, your people wanted to rebuild, but without repenting of your sins. You wanted to rebuild without My help, and in total defiance of My justice against you. This is not the last judgment against America, but you will see even worse destruction, and your country will live in exile with the coming takeover by the Antichrist. This time of your destruction is coming soon, which is why I will be calling My faithful to My refuges. At My refuges you will be protected, even if an atomic bomb is dropped on or near you. This will be a miraculous protection by My angels. Pray for all the souls who may be killed who are not prepared to meet Me at their judgment."
Sunday, April 22, 2018:

Jesus said: "My people, this is a beautiful Mass of deliverance, where many people have felt My grace when Fr. Michel blessed them with the oil of the weeping statues. Many people were touched as they repented of their sins, and they have a strong desire for Confession, just as people will desire after the Warning."
Saturday, April 21, 2018: (4:00 p.m. Mass)

Jesus said: "My people, a shadow of evil is coming over your cities, and you need to pray for My grace to help you endure this trial. This shadow represents the desire of your politicians and your Wall Street people to bring marijuana into your cities and states. Some people claim this drug has medical helps to certain patients. Most of your research has shown that this drug kills brain cells, and it is very addictive that could lead to harder drugs as heroin. Why would your people approve a dangerous drug for recreational use by your whole population? This could easily get to your children and ruin their lives. Your people need to enforce your laws against its illegal use, no matter what small medical value it has. It causes addictions similar to alcohol abuse, and it could cause more accidents in your vehicles from drug abuse. It is the wrong direction for your society to take, so fight to stop legalizing such a dangerous drug. Anything that kills brain cells is bad for your children and your adults."
Friday, April 20, 2018:

Jesus said: "My people, you are seeing in the reading how a miraculous conversion of Saul was brought about. Saul was killing Christians by bringing them before the Sanhedrin. My Light shone on Saul to show him My love, and I inspired him with My faith. Saul was changed to Paul and he became one of My greatest missionaries. You also are reminded of the flame of Light that your guardian angel will use to lead My faithful to their refuges. You also will see another Light in the Luminous Cross in the sky that will heal those people who look on it in faith. Even when you come to Me at your Warning or at your death, you will be drawn to My Bright Light. My Light radiates throughout all the universe to give life to all of My creatures. Do not be misled by the false light of the devil, but hold on to My true light of life."
Thursday, April 19, 2018:

Jesus said: "My people, I want you to draw the connection between the signs of spring to the signs of the coming tribulation. (Matt. 24:32,33) 'Now from the fig tree learn this parable. When its branch is now tender, and the leaves break forth, you know that summer is near. Even so, when you see all these things, know that the end is near, even at the door.' In the signs of spring you hear the birds singing and making their nests. You also see the flowers breaking through the soil, and the trees are budding. In contrast you are also seeing the signs of the coming tribulation. You are seeing many people who have lost their faith, and are no longer coming to Sunday Mass. You also see only a few coming to Confession, as people have lost any guilt of their sins. You see couples living together in fornication without marriage, and some living in homosexual marriage. You see your evil 'R' rated movies, and continuous abortions, as well as people with drug addictions. Evil has gotten worse in all aspects of your society. You are also seeing the beginnings of a division in My Church, and the Antichrist is already present on the earth. I will bring My Warning to help save some of the people, but My faithful will be persecuted, and you will be in the minority. In the Bible it says 'Many are called, but few are chosen'. The persecution of Christians will be so severe, that I will call My faithful to come to My refuges, where My angels will protect you. So just as you read the signs of spring, be able to read the signs of the times, where you will see the tribulation of the Antichrist."
Prayer Group:
Jesus said: "My son, you remember when you went to see your wife's grandmother on a farm that did not have electricity. She had a hand pump to get water from her well. She had an old outhouse for a lavatory. She made hot water with a wood fire in her kitchen stove. I am telling you this because you may have to live without electricity, unless you have solar panels. You do need a water well, and you may have to use your outhouse if your drains do not work during the tribulation. This will be a difficult life, but I will provide for your needs."
Jesus said: "My people, when the tribulation comes, I will multiply the food you have stored. For fresh vegetables, you could use your heirloom seeds to plant some crops on your land. Non-hybrid seeds will allow you to replant your crops for another year from some of your plants that you let go to seed. Be grateful that My refuges will have food and water to survive, and I will multiply these things for all of you to have something to eat."
Jesus said: "My people, at My refuges I want My faithful to have one or two people praying in front of My Blessed Sacrament in perpetual Adoration. If you have a priest, you can have Mass and My sacraments. If you do not have a priest, My angels will bring you daily Holy Communion. You will be praying more than you do now in thanksgiving for My angels protecting you, and for multiplying your food and water."
Jesus said: "My people, when you are living at a community, like your refuges, you will need some order and an assignment of jobs that will be rotated. You will have what you need, but you will have to work together for your group survival. So do not be afraid because you may have to counsel people to calm them down. You will be living in full trust of My help, so be patient for your food and share the jobs in food preparation, cleaning clothes, getting fuels, and securing water for sponge baths. You all will need to get along together as a loving family. Pray to Me for any directions that you will need."
Jesus said: "My people, you are experiencing a cold spring, so you will need certain helps to keep warm. Some people will need to find wood and chop it up, or use your saw to size it to your fireplace. You may even have to chop down some trees for wood fuel. Your kerosene gives good heat, but it will require faith in My power to multiply your fuels. I will not let you freeze, so you will find a way to keep warm. Do not rely on your natural gas that may be shut off to your refuge during the tribulation time. Every day you will give Me praise and thanks that I will provide for your food and heat in the winter."
Jesus said: "My son, every refuge will have a protecting angel, and St. Meridia will be seen protecting you from any harm from the evil ones. Only those people, who have a cross on their foreheads, will be allowed by your angel to enter your refuge. The angels are putting crosses on your foreheads if you are faithful to God and obedient to His laws. All of those people, who enter, will be blessed to be at your refuge. Those people, without crosses on the forehead, will not be allowed to enter, even if they know you. Pray for souls now so they will be converted now, or at the Warning so they could have crosses on their foreheads."
Jesus said: "My people, a day is coming when I will bless My people with My Warning experience. This will be an opportunity for all souls to see all of their unforgiven sins and to repent, and change their lives. Those souls, who say 'yes' to My Will, will be given graces to endure the tribulation. Those souls, who refuse My love and refuse to repent of their sins, will not be allowed into My refuges, and they will face the flames of hell at the judgment. My faithful will help to convert their family members, especially after the Warning. But they must choose to love Me in order to be saved. Keep praying for the souls of your family so they can be saved from hell."
Wednesday, April 18, 2018:

Jesus said: "My people, when you receive Me in Holy Communion, you are receiving My Real Presence, which is different from other sacraments. Most faithful genuflect to My Blessed Sacrament in My tabernacle when they enter their pews. I said in the Gospel that those faithful, who receive Me worthily in Holy Communion, will have eternal life with Me in heaven. My consecrated Host is the Bread of Life that I give you to nourish your spiritual life. This is why you need to receive Me in the state of grace without any mortal sin on your soul. Come to Confession to cleanse your mortal sin, so you are worthy to receive Me in Holy Communion."

Jesus said: "My people, you know how brutal the soldiers were when they crucified Me on My cross. There was not one part of My Body that was not suffering from mistreatment. I have a world to save, so I had to suffer much for your sins. I want all of My faithful to look at Me on My cross, and unite your pains and troubles with My suffering on the cross. When you offer up your pains and trials to Me, you could help others in your intentions. Many people suffer pains and disappointments in life, but they forget to offer them up to Me for helping souls. It is this wasted pain that could be put to a better use. Call on Me to help you through your trials so I can shower you with My graces to get you through what is causing your grief. You can trust in Me to be at your side every day. It is you who have to have faith that I can help you."
Source: John Leary
Fr. Michel Rodrigue explaines The Events of the End Times
Do you want a quick overview of the end times? Then read "The great events of purification will begin this fall". If you want all the details of the unfolding events, then go to "Virtual Spiritual Retreat with Fr. Michel Rodrigue about the End Times".
The Pope's approval of homosexuality
Beware of the 'New World Order'
The Rosary is the weapon of these times
The truth about the Coronavirus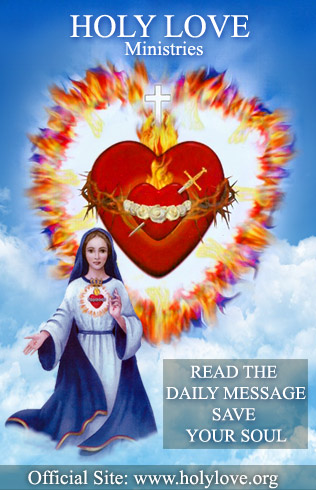 Read the daily messages
Catholics, we have entered the Pre-Tribulation, observe the Commandments, go to Confession; receive the Holy Eucharist; pray at least 3 Rosaries a day to keep your faith and save your loved ones. Prepare for the events that will devastate our planet: plagues, famine, WW3, cataclysms, antichrist's World Order